NBA refs should wear Google Glass during games says Houston Rockets GM Morey
19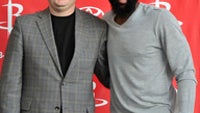 On Friday, Houston Rockets general manager Daryl Morey took part in a Reddit AMA and the subject of Google Glass came up. The question was asked about the NBA allowing its refs to wear Google Glass during a game and letting a television audience view what the refs are seeing. Before we get to Morey's response, we should let you know that he is not your typical GM. Some are former players, not known for thinking about weightier matters beyond the NBA salary cap. Morey, on the other hand, graduated from MIT (which does not have a basketball team called the Floating Decimal Points) as a computer science major.
While other NBA executives might have responded by asking who Google Glass is and what posistion he plays, Morey knew exactly what the connected specs were and replied that it was a great idea. He suggested that someone ask NBA Deputy Commissioner Adam Silver, who will become the NBA Commissioner in February when David Stern retires.
Considering the way the NBA protects its refs, you shouldn't expect this idea to ever make it past the "That's a great idea" stage. Can you imagine the second guessing that would go on if fans could see what the refs see for an entire game?

Houston Rockets GM Morey likes the idea of refs wearing Google Glass
source:
Reddit
via
AllThingsD