Mysterious Motorola Victara leaks out: dual-speaker phone coming to Verizon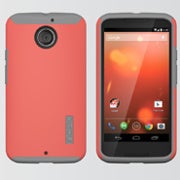 Motorola's next big thing is a phone expected to build on the legacy of the
Moto X
, a device that arrived with always-on voice and a few other interesting software features. This upcoming successor has often been said to arrive as the Moto X+1, and recently
we've heard about another codename for this same device
- the
Motorola Victara
.
Now, the name Motorola Victara is again regurgitated in what looks a very official confirmation of its existence via a leak of an Incipio case mentioning the name Victara as a phone coming to Verizon Wireless.
What's strange about this leak, though, is that this supposed Moto X+1, or Motorola Victara (note, that we're not at all sure if those are indeed two names for the same device), looks suspiciously devoid of a front-facing camera and a camera flash. Can you imagine a 2014 flagship smartphone with no front camera and no flash for the main one? Neither can we, so the most logical thing to assume is that this Motorola Victara is not a flagship Motorola phone, but instead, an affordable one. There is always the chance the Motorola surprises us, though, so let's not write off the possibility of such a strange flagship completely.
Stereo front speakers, but no front camera?
The other interesting element that you can see is the presence of what looks like
dual speakers
on the front of this leaked Motorola Victara. This is not typical at all for an affordable device, so whatever this phone turns out to be, it will surprise us.
For the moment, we can only say that the rumored Moto X+1 is expected to launch in the very last days of summer (think August 31st), so we're still a few months off from its expected arrival. Will the next big thing from Motorola look like this Victara, though? We have some serious doubts about that.
source:
@evleaks