Muse is a mobile EEG to measure your brain activity, view it on your mobile app, and help you find Zen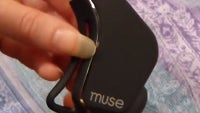 We can now leverage a mobile app and mobile electroencephalogram (EEG) to read our mind, not really, but pretty close. Activity trackers tell us how we eat, walk, run, sleep, even drink. Yet everything we do is tied to our mind.
Muse is a mobile EEG, and when paired with your Android or iOS device through the mobile app, it can help coach you into letting the distractions subside and focus on the given task at hand.
Many people do that through meditation, and that is what Muse was initially developed to do, introduce people to meditation techniques by providing visual, and audible cues about the state of our brain activity.
Muse illustrates brain activity on the mobile app, and also presents that activity as a blowing wind when you wear the headset. As you practice meditative techniques, the wind subsides. The mobile app lets you follow your progress and offers tips and pre-timed programs to help you concentrate. This information is also quite accurate since Muse is a clinical-grade EEG.
This can be a pretty handy accessory given some studies that suggest that we spend up to 47% of our days thinking about something other than what we are doing right then and there. Muse aims to take the guesswork out of meditation, and introduce you gently to the idea. The first program is only three minutes long.
Muse is available for $299 at BestBuy or through the company's website. If you are a developer, the SDK is available if you want to leverage this technology in ways that may allow for brain pattern control of your app or accessory. Muse aims to help you savor the calm.