Motorola's networking with a twist is actually the recent prototype phone?
This article contains unofficial information.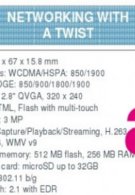 The
strange back-story
behind the latest square shaped Motorola Android phone might've questioned some people about its validity, but now there might be additional concrete information to shed light on its truth. There was a recent leaked document that pointed to a Motorola handset that clearly is brands itself as a device geared around "networking with a twist." Without a doubt the recent image of the prototype phone that surfaced made people wonder how the QWERTY keyboard would be displayed. Strangely enough, the Nokia Twist on Verizon's lineup utilized an interesting way of opening up the device – you obviously perform a twisting action to get the keyboard exposed. We're still wondering how or if this prototype will perform a similar action, but looking further into the leaked document, it clearly shows the dimensions at 67 x 67 x 15.8 mm – which offers some validity to the perfect square nature of the prototype. Finally, the device is looking to pack a 700MHz processor, Wi-Fi, GPS, 3-megapixel camera, 256MB RAM, 512MB ROM, 2.8" QVGA display, MOTOBLUR 1.5, Bluetooth, and a 940 mAh battery.
source:
Android France
(translated)