Motorola's i1 is the Android running Opus One and is coming soon for iDEN carriers?
8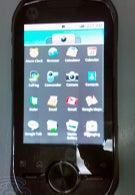 reported
that Motorola was working on a iDEN based Android device called the Opus One. Since then, we have celebrated Christmas, New Year's Day, Martin Luther King's Birthday, President's Day, Valentine's Day and other important days that we might have missed, and still their had been no word about this phone until now. Engadget hears from a tipster that the Opus One is the Motorola i1, runs Android for iDEN carriers, and even includes the MOTOBLUR UI that pushes all of the important info from social networks on to your home page in tasty bite-sized widgets.
We wouldn't expect a phone for iDEN carriers to have the greatest and latest software, so why should we shed a tear over the Android 1.5 OS on the Motorola i1? The camera is a 3MP shooter and Engadget says to look for a possible announcement about the phone in the next two weeks which would coincide with CTIA near the end of the month. Hey, an Android phone for the budget user is still an Android phone!
Motorola Opus One Preliminary Specifications
source:
Engadget