Motorola's 'MOTOPAD' is expected to ring in the bells for Android 3.0?
5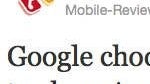 Eldar Murtazin is no stranger when it comes to conjuring up some juicy mobile related news, but its appears that exciting things keep on pouring out from the trusted insider. Most recently, we've seen Twitter posts mentioning that the
Samsung made Nexus S smartphone would indeed be packing a dual-core processor
, but now the focus of attention is switching to the tablet space.
Murtazin's web site, Mobile-Review, just recently tweeted a message in regards to Google's plans to work with Motorola for an Android 3.0 powered tablet. In fact, the two companies aren't strangers in forging strong relationships as we've seen them team up together in bringing to life the Android 2.0 powered Motorola DROID – which is arguably the most popular Android powered smartphone to date.
However, it looks like the two will be at it with a 7" Android 3.0 powered tablet going by the name of 'MOTOPAD.' If it is to be believed, there's no arguing that it'll undoubtedly be a highly regarded item – especially when the two managed to create such demand with the Motorola DROID.
source:
Twitter
via
BGR

Tweet indicating that Google and Motorola are partnering together for an Android 3.0 tablet.
Recommended Stories