Motorola's "Connect Coin" wearable can help find your phone and even save your life
4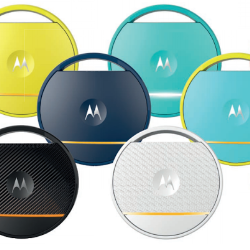 Nearly two years ago,
Motorola introduced the Keylink
, a small accessory that works with the Motorola Connect app to help you find your keys, your phone or other important items that you can't be without. Now, the company is about to introduce the
Motorola Connect Coin
. Using Bluetooth Low Energy 4.0, each Coin is powered by a one-year replaceable battery, and includes a GPS tracker. The latter can be used to track down your phone, car keys and more.
To prevent annoying and unwanted alerts at home or in the office, the Safe Zone can be turned on to prevent the Coin from generating an alert. The Safe Zone can only be enabled while connected to a Wi-Fi signal. Once you are out of Wi-Fi range, the Coin will alert you if you've left your office or home without your keys or phone.
A camera trigger function can be set on your Connect Coin, allowing you to remotely snap a picture. The Coin will also allow you to control your music. Skip tracks or change the song that is currently playing by using the accessory. And if you're in danger, press the SOS Alert button and your current location is sent to friends and family.
The Motorola Connect Coin will be available in various colors and will launch first in Asia. If you live elsewhere, don't fret. The Connect Coin should be found all over the world by the end of this year. The Coin works in tandem with the Hubble for Connect Coin app, which is available for iOS and Android. Just click on the appropriate link.
Download and install Hubble for Connect Coin (
iOS
|
Android
)
Thanks for sending this in!
source:
TechDroider