Motorola to quit making feature phones by year-end?
17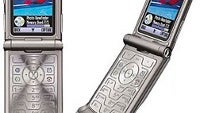 Motorola Mobility might
slash all feature phones
from its development portfolio and suspend that business by the end of the year and instead focus on smartphones only. That's the latest rumor coming from Chinese publication Commercial Times, and while we don't see any factual evidence to support that claim, we wouldn't be terribly surprised if it came true.
After all, Android smartphones for once have dropped to match feature phones and Motorola could well work in that segment. Also, it's worth noting that feature phones with their low prices is not where the industry's margins are. Motorola would probably do good to its profits if it switched to an all-smartphone strategy.
This aligns with some carriers plans as well. US biggest Verizon has previously said it will stop offering non-4G smartphones and try to push its LTE network as much as it could. This suggests the carrier will also focus on smartphones.
The Chinese publication also mentions that this could mean significant trouble for ODM Arima Communications, a Taiwanese company that Motorola uses for the production of its feature phones and most basic smartphones.
Would someone miss feature phones and are they still relevant in this day and age? Let us know your thoughts below.