Motorola takes shot at Apple iPhone 6 Plus in detailing how the second-generation Moto E came to be
54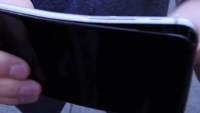 They just can't let it go. Motorola posted the official
Motorola Moto E
back story on its blog on Wednesday and while it was completely focused on how it designed the second-generation Moto E, the manufacturer took the time to get a little shot in on the
Apple iPhone 6 Plus
. In discussing the back curve of the device, the company wrote "The Moto E has a curved back, ergonomically designed to fit perfectly in your hand and
not bend in your back pocket
." Now what phone has a problem with bending? (Rhetorical question, in case you can't tell).
Meanwhile, we can tell you that Motorola went back to the consumer to design the second-generation Moto E. "
We really listened to what they liked about the phone and how we could make this affordable device even more useful to them and more powerful
," said Kristin Arnold, one of the company's consumer researchers. Like the second-gen
Motorola Moto X
, the company stuffed two accelerometers inside the Moto E which allows the phone to offer some of the premium features available with the Moto X.
"We designed the Moto E with the idea that people shouldn't have to pay a lot to join the connected world and experience it at its best. So we did what other companies weren't doing with their affordable devices. We packed in great design, great engineering and great software. We're also providing great customer service and software updates that continue long after you buy the phone. Now that's real bang for the buck. And that's what makes Moto E different."-Rick Osterloh, president, Motorola
The second-generation Moto E has been given a front-facing camera to make the phone attractive to the "selfie" generation. Six different colored Motorola Bands can be swapped out in order to customize the device. And the handset has been designed to feel great in the hand. It also feels great in the wallet. The phone comes in
both LTE and non-LTE flavors priced at $149.99 and $111.99 respectively
.
Thanks for the tip!
source:
Motorola