Motorola shipped only 250,000 XOOM tablets, posting a significant loss
60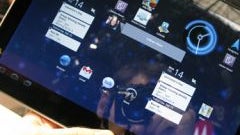 There was no doubt in our minds that the
Motorola XOOM
would represent the first real competitor to Apple's iPad. But, due in part to its exorbitant price tag, the XOOM has experienced pretty disappointing sales.
Motorola Mobility reports that it has shipped about 250,000 XOOMs
.
Then again, 250,000 is well above earlier
estimates
of 100,000. But 250,000 is nothing for them. Motorola Mobility shipped a total of 9.3 million devices, 4.1 million of those being Android devices.
Motorola Mobility posted a loss of US$81 million, but that's still down from $212 million a year ago
, before they split from their infrastructure division. Revenue was up from $2.48 billion to $3.03 billion. So why did they lose money? Between the
Atrix 4G
and the XOOM, Motorola Mobility spent a fortune on advertising. And that
Super Bowl ad
wasn't cheap.
One could explain the XOOM's relatively low sales as a failure, but it can also be seen as an investment in maintaining their Android credibility. Regardless of whether we were willing to pay for such an expensive machine, we still respect Motorola for making it, and that will affect our purchasing behavior.
source:
Electronista