Motorola reveals new timeline for Android updates
7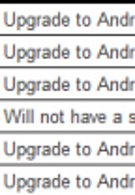 Now that Android 2.2 has been rolled out in phases to owners of the original Motorola DROID (although a second upgrade will be required before the Adobe Flash Player can be installed), the Schaumburg based manufacturer has revealed an up to date timeline for when the rest of its Android lineup will receive Android
2.1
or 2.2.
Getting the bad news out of the way, the DEVOUR will not be getting Android 2.1. It is destined to finish its life as an Android 1.6 device, no matter how many baths it shares with Meagan Fox. On the other hand, those with AT&T's first Android device will be doing back flips after hearing that the Motorola BACKFLIP is set to receive Android 2.1 this quarter. Considering that Q3 ends next month, this upgrade should not be too far away.
Over at T-Mobile, both the Motorola CLIQ and CLIQ XT are on the board, scheduled to be upgraded to Android 2.1. According to Motorola, testing is in progress for both models with the actual upgrade expected to take place during the tail end of the third quarter, or the beginning of the fourth quarter.
That leaves the supersized DROID X. This giant is expected to receive Android 2.2 late this summer. There was no word on whether or not the DROID X will require two separate upgrades to allow for the installation of the Flash Player, similar to what is happening with the original DROID model.
As far as our neighbors to the north are concerned, all four models (BACKFLIP, DEXT, MILESTONE and QUENCH) are being "evaluated" for an upgrade to Android 2.1. For the upgrade schedule for devices in other countries, check out the source link.
source:
Motorola