Motorola introduces new S11-FLEX HD wireless headphones
9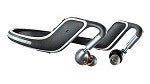 Ever have trouble with ear-bud style headphones staying in your ear? These snazzy headphones might be just the thing you are looking for.
The S11-FLEX behind-the-head headphones sport multiple ways to adjust to the shape of your head from a flexible frame to adjustable ear-buds. They will also stay secure because they also incorporate an over-the-ear design.
What is even more impressive is the claimed performance and specifications of these bad-boy-buds. The S11-FLEX HD headphones allow for rapid battery charging, 5 minutes will provide an hour of operation, and 15 minutes will top off three solid hours. They are sweat-proof, are equipped with dedicated volume controls, an EQ button, and a claimed range of 150 feet on Bluetooth. Naturally, you will be able to control your phone calls with them. Audio-wise, Motorola says to expect best-in-class HD sounds.
All-in-all, they look like they are ready to perform, and with so many ways to adjust them, they look like they will perform with good comfort. They are scheduled to be available on October 28th, and will cost about $130.
sources:
Android Community
,
Motorola