Motorola really jumping into the foldable phone game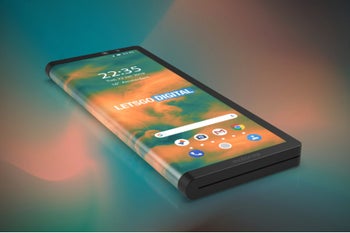 We've already heard rumors and saw patents that show us Motorola is planning to
resurrect the classic Razr
handset as a modern foldable smartphone. This sounds very, very cool and... quite expensive. To top it off, reports say it'll be
a Verizon exclusive
.
But if you are not inclined to jump on Big Red, fear not — it seems this is not the only foldable phone Motorola is planning. The company has filed a new patent with the USPTO, outlining its own take on the smartphone that folds outwards — the same concept we just saw in
this Xiaomi video
.
As per the patent images, this imaginary Motorola device will be sized like your regular compact tablet. It folds out straight across the middle to transform into an extra-long, chocolate-bar type smartphone. What's cool here is that, in folded mode, the device will accept touches on the portion of the display that is now the "back" of the device. These can be taps and swipes to control whatever you are viewing on the active screen.
Other juicy bits show that it will have two cameras placed in such a way that they will become a front-facing and rear-facing camera once the phone is folded. The software will then will check the sensors to see which side of the device the user is facing and activate that side as the "main" screen.
Another cool illustration shows the foldable Motorola phone bent in a tent-like shape and propped up to transform into a nightstand alarm clock. We are not sure whether this mode would agree with battery life, so it would probably be wise to keep it hooked up to a charger when used in such a way.
The kind folks
over at LetsGoDigital
have made a few renders imagining what this Motorola device might end up looking like:
Of course, a patent doesn't mean that a device will necessarily see the light of day. However, foldable phones have become a big, big topic lately. And while some believe they would be an impractical, expensive failure, many can't help but awe at the futuristic tech and engineering talent required to pull off such a device.
We are definitely about to see some cool stuff from Samsung and possibly Xiaomi and LG in 2019, and this patent shows that Motorola has no intention on falling behind, should foldable handsets become a trend.