Motorola XOOM's project improves support for Verizon's pay-as-you-go customers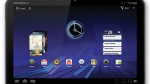 Just the other day we told you that Motorola had sent emails out to those
Motorola XOOM
users who were members of the Motorola Owner's Forum,
detailing some type of confidential project
that had yet to be revealed. Many had hoped that the tablet was getting primed for an update to Android 4.0, which of course was not the case. However, a follow-up email went out to those interested in participating in the project and the top secret was revealed.
According to the letter from the Motorola Owner's Forum and the Motorola Feedback Network, the limited update, which will be "invisable" to XOOM users,
merely increases support for Verizon's pay-as-you-go customers
. That's all there is to it, folks! Those participating in the project are asked
not to make any public statements
about it.
If you own a Motorola XOOM and pay Verizon for service on a month-to month basis, and are a member of the Motorola Owner's Forum, this update and project would be for you. Otherwise, just forget we ever told you about it in the first place.
source:
AndroidCentral