Motorola XOOM teardown suggests 4G upgrade procedure is unnecessarily tangled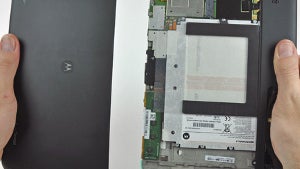 It's been a couple of days since thelaunch of the Motorola XOOM, the first serious contender to the iPad, and that means thetime for a complete teardown has come. ifixit's crafty crew took theXOOM apart to find out just how repairable the new tablet is and howeasy it is to upgrade it to 4G. As you probably know, gettingthe tablet now, would mean that you have to return it back to thestore for an upgrade to 4G. Not only you have to get the tablet tothe store, but it'll take almost a whole week before you get it backwith 4G connectivity.
Tearing it apart reveals that the XOOMuses the standard torx screws in a whopping number. There is 57 ofthem, holding the tablet together. But curiously enough, taking down thebottom part where the 4G radio should be located is as easy asunscrewing two screws. Unfortunately, this simple process isaccompanied by a tangled procedure.
Apart from that, the tablet's LCD isnot fused to the glass, which lowers the cost of repair. Inaddition, other parts like the cameras are connected via separatecables allowing you to only replace them in case of a malfunction.Check out the detailed teardown below to see all the circuitryresponsible for the speedy performance of the XOOM.
source: iFixit