Motorola RAZR HD and RAZR M will ship globally
11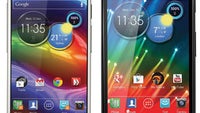 Folks outside of the U.S. might be feeling a bit envious now that the
Motorola DROID RAZR HD
and
DROID RAZR M
have been announced for Verizon. Well, for them we bring good news: global versions of both devices will be made available as well. The Motorola RAZR HD and RAZR M are now listed on the company's web site, along with photos and specifications for us to drool on.
In terms of specs, there aren't any major differences between the U.S. and international versions of both smartphones, with the exception of the missing LTE radio, of course. The Motorola RAZR HD retains the 1.5GHz dual-core processor, 4.7-inch HD screen, and 8-megapixel camera, while the Motorola RAZR M offers an identical 4.3-inch display, the same 1.5GHz dual-core processor, and 8-megapixel main shooter.
Unfortunately, a Motorola RAZR MAXX HD is nowhere to be seen, and there is no word as to whether such a smartphone will ever be available or not. Still, the RAZR HD And RAZR M should be capable of delivering some very good battery life, so chances are not too many potential customers will be disappointed. Pricing and availability are to be announced at a later time. Now check out the international Motorola RAZR HD and RAZR M models in the slideshow below!
source: Motorola