Motorola Moto X+1 shown in a 30-second video along with its funky Motorola boot animation
37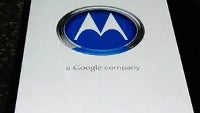 Following the critical success of the
Motorola Moto X
, it would appear that the US-based company (ownership of which traded hands
from Google to Lenovo
recently) is readying a sequel, and so far we know the device simply as the Moto X+1.
Not much has been unearthed about this reportedly upcoming Motorola flagship, but we have a feeling things are about to change. Courtesy of TK Tech News, a 30-odd second video of the alleged Moto X+1 is now a reality, and we have our first more convincing glimpse at the device. We don't get to see much beyond its funky Motorola boot animation, which is
as creative as was the one on the original Moto X
.
In case you're wondering, the video is of poor quality (and has those annoying stickers all around) in order to protect the identity of the device, which, according to the source, can be used to pinpoint the exact leaker. Thankfully, this is apparently only the first out of five upcoming Moto X+1 video leaks, so we'll keep a watchful eye out.
In related news, apparently TK Tech News managed to get their hands onto the X+1 after offering a whopping, $25,000 bounty to anyone who comes up with the device. As it turns out, at least according to the publication itself, 25 grand were enough to salivate a Motorola employee, who gave up the device. Whether such a massive amount of cash really did change hands is impossible to confirm, but it does seem like we may have another leaker in town, intent on building a strong track record. Stay tuned.