Motorola Moto X vs Nokia Lumia 1020 first look
16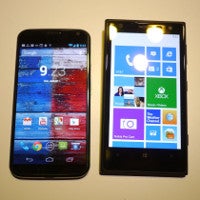 Introduction:
Would you look at that? It was only a few weeks ago when the
Nokia Lumia 1020
came onto the scene, stealing a lot of thunder from some of its respected brethren. Fast forward to now, we have a new competitor that's also looking to make a name in itself. It's Motorola's finest in the
Moto X
, and the still fresh PureView camera packing Nokia Lumia 1020. These two are no doubt prized for certain things, but we'll see how that quickly compare against one another.
Display:
We're not crazy, right? The Moto X has the
larger 4.7-inch 720p AMOLED display
, yet, it's the smaller sized device between the two. In contrast, the Nokia Lumia 1020 has a
smaller 4.5-inch PureMotion HD+ (768 x 1280) display with ClearBlack AMOLED
, but it's still the bigger sized device. Obviously, they both sport similar elements, since they AMOLED panels and all – like their over saturated colors and wide viewing angles. Meticulously looking at some of the details they're able to muster up, there's not one that our eyes can actually say is the superior one, as they both deliver the same level of crispness.
Design:
It's always difficult to gauge it, especially when preference varies between people, but there's still a bit
more attractiveness with the Lumia 1020's design
– and that's despite its girth and weighty feel. With that in mind, the
Moto X has the superior feel in the hand
, since its curved rear casing with its rubbery finish delivers a more natural, ergonomic, and comfortable touch. And lastly, there's something about the unibody polycarbonate design of the Lumia 1020 that screams sturdiness. In the end, they both have their pros and cons, so it'll again just come down to personal preference.
And then we have their cameras! Undeniably the stand out feature of the Lumia 1020, its beefy
41-megapixel PureView camera
has already astounded us with its high level of quality. So with that in mind, the
10-megapixel Clear Pixel camera
on the Moto X no doubt needs to deliver results that can compel us. Somehow, we already have a hint that it won't blow away the Lumia 1020, but we're crossing our fingers that they're at least respectable when compared to some of the great camera phones out there.
Interface:
There's no arguing that the Android
4.2
.2 Jelly Bean experience of the Moto X is undeniably deeper and more comprehensive than that of Windows Phone 8 on the Lumia 1020. Not only is there a higher level of personalization with the Android experience on the Moto X, but it's able to separate itself dramatically with new features like its Touchless Control, Active Display, and Quick Capture Camera. To be honest, Windows Phone 8 still has a polished looked and feel, which is attributed to the Modern UI adorning various aspects of the platform, but as a whole, the ecosystem with Windows Phone still pales in comparison to what the Moto X offers.
Surprisingly enough, especially for being regarded as flagship devices, these two are armed with
modest dual-core processors
– as opposed to the quad-cores than many of their highly esteemed rivals offer. Regardless of that, it's wonderful to find that both operate at the same level of intensity. For dual-core packing devices, we really can't say that one outclasses the other in raw performance.
Expectations:
Indeed, it's a bit ironic that these two companies are pretty much in the same boat – where they're trying to reestablish themselves as being major players in the space. Nokia is banking on the Lumia 1020 to sell like hot cakes, hinging its success mainly to its unparalleled camera experience. On the flip side, Motorola is giving consumers a totally different way of designing the Moto X, when combined with its software enhancements, it might give the handset a shot of making more noise than the Lumia 1020. Adding to that, the Moto X has the advantage of being available through more carriers in the US right from the onset, something that plagues Nokia to this day with its offerings.
Motorola Moto X vs Nokia Lumia 1020 first look