Motorola Moto X priced at $149.99 in Canada
32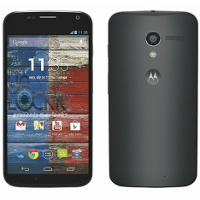 Hear the sound of explosives and aerial attacks up in Canada? There's a real price war going on north of the U.S. border and it is all about the
Motorola Moto X
. It was just Wednesday when we told you that Canadian carrier
Rogers had cut the price of the Moto X by $20 to $169.99
. It doesn't seem that the economic laws of supply and demand were at issue here. Rogers was actually matching the price for the phone posted by two big tech chains in the region, Future Shop and Best Buy Canada.
And that bring us to Friday when one of our loyal readers sent us a photograph that he took from a Walmart type store called The Real Canadian SuperStore. And inside the Real Canadian SuperStore is something called The Mobile Shop where a version of the Motorola Moto X is just $149.99 with a signed two-year pact from Rogers. Is this as low as the phone gets, or are The Future Shop and Best Buy Canada cooking up an even lower price?
Thanks, Anonymous Tipster!