Motorola Moto X gets official, comes in a host of colors
16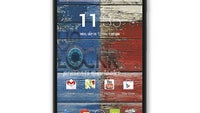 Google and Motorola have finally made the
Moto X
official, and what do you know - it's a near stock Android experience smartphone with a bunch of unique twists. But first of all, it's worth noting that the Motorola Moto X is supposed to be a reflection of a new Motorola (one owned by Google, obviously), which aims to strike a perfect balance between Moto's manufacturing expertise and Google's world-changing software.
The Moto X is going to come to the five biggest U.S. carriers - Verizon Wireless, AT&T, Sprint, T-Mobile and US Cellular, and that quite the achievement, courtesy of Motorola's established relationships with carriers.
However, we don't know how much of Motorola's manufacturing expertise has been left intact for the Moto X, as the handset clearly has that typical form of a Nexus handset, unlike the recently unveiled DROID line-up for Verizon. So, yeah,
it's a typical Nexus in terms of looks
, but Moto has still managed to squeeze a few differentiating features in there.
The
near-edge-to-edge screen
of the Moto X measures the healthy 4.7 inches and has a resolution of 720x1280 pixels, and while this isn't anything to write home about, seeing that the competition has already moved to 1080p displays for flagship products, it'll still provide a decent pixel density of 316 pixels per inch. Screen technology is AMOLED, but thankfully, of the RGB type, not PenTile.
The main camera of the device seems to be the same as on the DROID Ultra and DROID MAXX -
10MP ClearPixel shooter
for (hopefully) better low-light shots and blur-free daylight shots. Naturally, 1080p video recording is supported. The Moto X also features a 2MP front-facing camera that also supports 1080p video recording, though of much poorer quality.
Just like the new DROIDs for Verizon, the Motorola Moto X features the new
Motorola X8 Mobile Computing System
, which adds a dedicated natural language processor and a contextual computing processor to a 1.7 GHz dual-core Snapdragon S4 Pro CPU and the Adreno 320 quad-core GPU. All of this does add up to a total of eight cores, though it should be kept in mind that this isn't the same as what the general term "octa-core chipset" means, which usually implies that a CPU with eight cores has been implemented. In this case, there are only two CPU cores in the Moto X.
When it comes to those "unique twists" that we mentioned in the beginning, the highlights include the Moto Maker portal, Touchless Control, Active Display and Quick Capture camera.
You may have heard the rumors that the Moto X is going to be
a highly-customizable phone
. Well, it turns out most of this will come down to choosing from a very rich set of back colors, as well as a streamlined online customization experience. While making their online purchase, users will be able to select from 2 front colors, 18 back colors, as well as 7 accent colors, which is much more choice than what we're currently used to. And while choosing from a large set of colors may not be particularly exciting, things get way cooler when we factor in the option to have the manufacturer print a custom message on the back of the phone, or set up a customized boot-up message prior to receiving the device. Other than that, there is the standard option to choose from a 16 GB or a 32 GB model.
Touchless Control
is what will let you control your Moto X using voice alone. Thanks to the dedicated natural language processor, you can enable the Moto X to constantly listen for commands. That feature is tied to Google Now, so the commands themselves will be issued by simply saying "OK, Google Now," followed by the command itself. You can do this for a number of things, including setting up an alarm, getting directions, searching the web, checking the weather and more.
Active Display
is the feature that will make good use of the AMOLED screen tech, as it'll regularly be lighting up certain pixels of the panel in order to display various sorts of notifications, as well as the time. The time will automatically be displayed when you pick up your Motorola Moto X, while the notifications will pop up when... well, when there's something to be notified about. Due to the fact that the AMOLED screen allows for only selected pixels to be turned on at a time, Active Display shouldn't cause a hit on your battery life.
Finally, there's
Quick Capture Camera
, which is nothing mind-blowing. It's simply a gesture-based shortcut that lets you start the camera quickly. For the purpose, once you pick the phone up, you can twist your wrist twice in order to launch the camera. Once that is done, you can simply touch the screen in order to take a shot (similarly to other handsets and camera apps out there). While this doesn't sound like anything to really care for, what we're much more interested in is checking out the quality of the photos coming out of the so-called Clear Pixel camera with RGBC sensor ('C' stands for 'Clear'). Fortunately, we'll be able to do just that in our full review, which is going to be published soon, so stay tuned!
As we said in the beginning, the Motorola Moto X will be available for purchase through Verizon, AT&T, Sprint, T-Mobile and US Cellular. The handset will retail for the golden price of $199.99 with a two-year contract. Unfortunately, the release date is yet to be announced, though rumors claim that it's going to ship on August 23.