Motorola Moto X concept renders show possible colors
11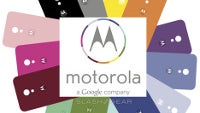 The
Motorola Moto X
is obviously coming soon as leaks are starting to pop up like mushrooms after rain. We have seen Motorola's official teaser, the brand new redesigned Moto logo, now a Google company, and we have even seen the first images of colorful back plates for the device.
Now, here are neat little renders of the possible colors for the backplates of the Moto X, coming courtesy of SlashGear. The publication based its work on the colors in the new Motorola logo, and of course while nothing is official we know customization will be one of the biggest novelties for the mysterious Moto X.
Speaking of mysteries we have to humbly point out that we've been bringing you exclusive and consistent reporting about the
upcoming Motorola Moto X
. In March, we said there would be three new Motorola devices initially and just recently our words were confirmed by leaks for the
Motorola RAZR Ultra and RAZR M Ultra
, coming in addition to the Moto X. The third device - we predicted - would be oriented at the low end market.
As for the Moto X, our source tells us the handset will come in a
choice of more than 20 colors
, and that it'd feature a 4.3-inch 720p display and run on a Snapdragon S4 Pro with 2 gigs of RAM.
Right below, you'd find the renders for the possible color versions of the Moto X.
source:
SlashGear