Motorola Moto X (2014) specs review
36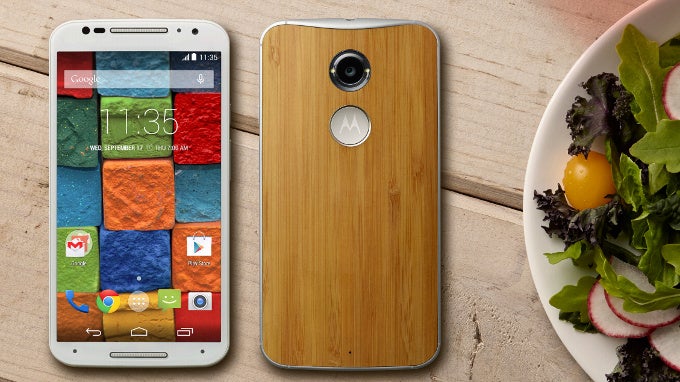 After a $12.5 billion acquisition of Motorola Mobility, all eyes were on the Moto X last year as this was the first handset that Motorola released under Google's command. And while the Moto X delivered sensible innovation with a 4.7-inch form factor that turned out surprisingly compact and single-hand-friendly, an always-on voice control, and a nearly stock version of Android with quick updates, it could not get traction among consumers. Be it for the comparatively low, 720 x 1280-pixel resolution of the display while most devices had 1080p screens, for the pure size of the devices (4.7" versus larger devices being in the trend), or for sub-par Snapdragon S4 Pro chip while others had more powerful silicon, the end result was that the Texas Moto Maker factory for the Moto X shut down and the handset sold poorly.
Has Motorola learned from its mistakes?
Has Motorola learned from its mistakes? The company uncovered the new Moto X today, and at first sight it seems that the answer is yes: the 2014 Moto X features a premium-feeling metallic frame, a larger, 5.2" display with a higher, 1080 x 1920-pixel resolution, a powerful (even though not cutting edge) Snapdragon 801 system chip, and a non-experimental 13-megapixel camera. Check, check, check. Let's look at all that in detail.
Design: leather back, metal frame
Good design is something elusive: it's subjective and somehow universally accepted at the same time. That's why it's hard to give a definite judgment about a particular design, and the new Moto X is a particularly difficult phone as it seems that it draws polarizing reactions: some love it, and others hate it. First, though, the backstory: the new Moto flagship was designed by Motorola lead designer Jim Wicks, the same person behind the acclaimed Moto 360 circular looks. It puts the focus on symmetry - the front grills are symmetrical on the top and bottom (but only the bottom one is a speaker, we have no stereo speakers in the Moto X), perfectly aligned, on the back, the camera eye is doubled by a second, equally large dimple with the Motorola logo. This creates an unusual look, and the oversized logo and camera definitely look on the weird side. Add to that the three infra-red beamers on the front of the device (used for its gesture recognition), and you surely have a very distinct design.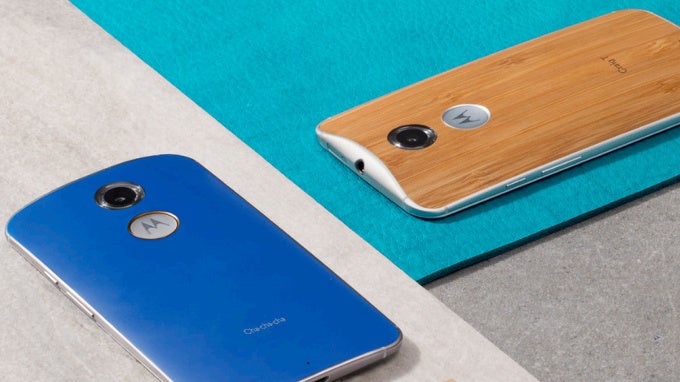 What impresses more, however, is the departure Motorola took from plastic: last year's flagship Moto X did not exude a feeling that you're holding something premium, precious. This year's Moto X? Much closer. It's got a sturdy metal frame with accented buttons that look gorgeous. Even small details like the riffled lock key are nice. Even nicer is the improved Moto Maker with wider choice of materials: along with the plentiful colorful plastic cover choices, you have 4 wood and 4 leather finishes. The latter are all new and exclusive for the new Moto X.
This year's Moto X is also no longer small: it has a 5.2" display, and while it is still surprisingly compact for its display size, it is not exactly ideal for use with a single hand. At the same time, it's worth paying special attention to the nice curvy back of the Moto X+1. While technically, you'd see that the phone is listed as being 9.9mm thick, that's only the size at the thickest point. At the edges, the thickness drops down to a very slim 3.8mm, which makes it much more comfortable to hold the device as it lays comfortably in the hand.
Display: more AMOLED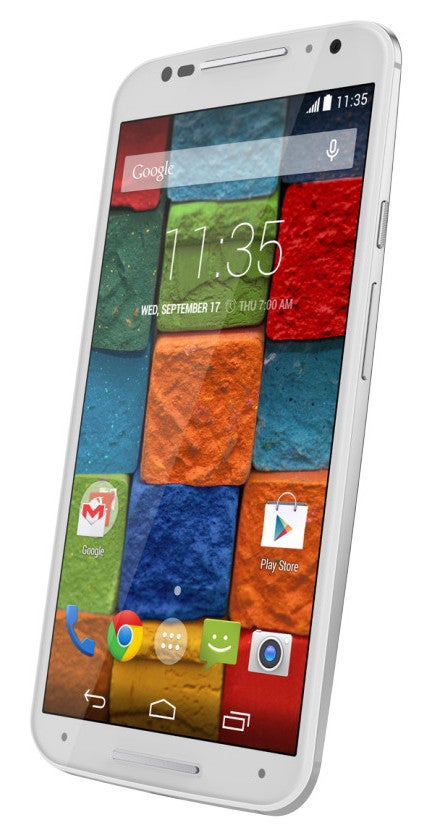 The Moto X features a 5.2-inch AMOLED panel with a resolution of 1080 x 1920 pixels. The spec-obsessed will be quick to point out that 1080p is good, but it's no Quad HD. And with devices like the LG G3 and Samsung Galaxy Note 4, you might be wondering whether not having the trendy new 1440 x 2560-pixel resolution is not a big downside. Good news is that the difference between Quad HD and Full HD on a display of such a small size is barely noticeable, so going with the 1080p resolution is definitely a very sane decision by Motorola. This results in a pixel density of the very sharp 424ppi, a step up from the 316ppi of the 2013 X.
Last year's Moto X also shipped with an AMOLED panel, but with all of its advantages, we have to remind you it was pretty wildly oversaturated, with unrealistically blown-up colors and a slight but noticeable bluish tint. We are seeing similarly boosted colors on the new Moto X, but that's only our first impression: we'd be coming up with more definite measurements in our upcoming review.
Interface: always-on voice
One of the things Motorola is loved for is the clean, Android stock-like interface. It's a lightweight, fast, and responsive user interface. Motorola has proven it can be very quick with updates as well, so even though the new Moto X launches with Android 4.4 KitKat, it's likely that it will get the new Android L update soon after the fall roll-out.
Motorola also adds some interesting new features on top of the stock experience. First, it makes it easy to switch from another Android device or an iPhone via the Migrate app. Then, you have Moto Assist that you can configure to do things like read out loud text messages while you're driving for instance. You can also easily use the feature to enable a 'do not disturb' mode at night, plus the phone detects location and can act accordingly.
Always on voice with any command, not just 'Ok, Google'
Moto Voice, the always-on voice assistant, is on board as well, but this time you can choose the phrase to wake it up yourself, while previously you needed to use the 'Ok Google' wake-up call. Now, anything with 5 syllables or more will work, so you can just say something like 'wake up, buddy'.
The Moto Display feature with Active Notification is also here and allows you to quickly peek into new notifications without waking up the display completely, and it thus prolongs the battery longevity of the phone.
The new element with the Moto X is Moto Actions. Using the three front-facing infra-red cameras, the phone can easily and accurately detect motion, so you can wave your hand in front of the phone to, say, silence an incoming call.
Processor and Memory: good, but not cutting edge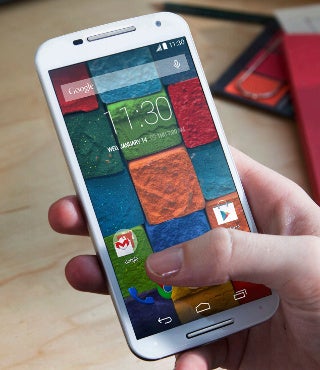 The Moto X ships with the Snapdragon 801 quad-core system chip running at up to 2.5GHz, 2GB of RAM, and a Krait 400 GPU. Hearing about the first Snapdragon 805 devices like the Note 4 coming up, you'd be right to point out that the 801 is not cutting edge anymore. However, one should also consider the fact that the first Snapdragon 805 devices come with a 1440 x 2560-pixel Quad HD display, so they have a much higher load. Given the 1080p display on the Moto X, we expect the difference to level up, so basically performance should around the same on both devices.
Internal storage comes in at either 16GB or 32GB, and there is no expansion option: the microSD card slot we're used to seeing on Android is missing here.
Camera: put a ring on it (that flash!)
After an experimental run with the 2013 Moto X which shipped with a 10-megapixel 'ClearPixel' camera by OmniVision, this year, the new Moto X skips on those experiments and relies on the tried and tested 13-megapixel Sony IMX135 sensor.
That's one of the most popular sensors out there that is also used on devices like the LG G3, LG G2, and the Samsung Galaxy S4. It is noticeably smaller than the previously used OmniVision one, but has a higher resolution. Naturally, this translates into tinier, 1.1µ pixels, smaller than the 1.4µ on last year's Moto X. Is this a worthy trade-off? We have already seen that pixels of such a small scale are not the ideal solution for night shots where images often pick up more noise, but we're yet to analyze the new Moto X camera samples in our detailed review that's coming up.
Turning to the optics side of things, we had an f/2.4 lens with a 30mm (in 35mm equivalent terms) lens. The new Moto X moves to a wider aperture of f/2.25, and as you probably know, a wider aperture allows for more light to pass to the sensor and results in lighter images. Focal length remains nearly the same at 29.4mm on the new Moto flagship.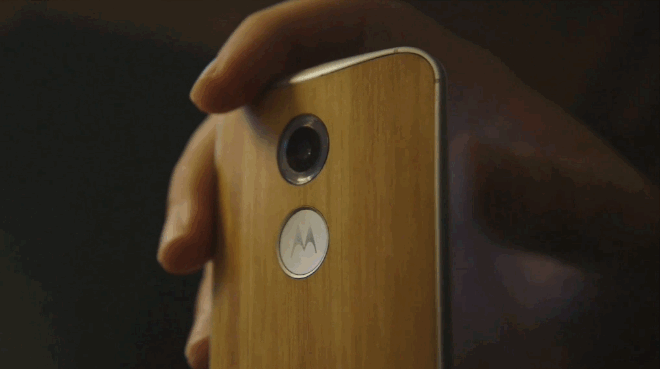 Moto X's new ring flash, animation courtesy of TheVerge
Daytime camera samples courtesy of Android Authority.
Battery
With a 2300mAh, the Moto X does not stand out with a particularly huge juicer, but it claims to have made some optimizations and promises a full day (yes, that means 24 hours) off the charger. Obviously, the company is well aware of the risk taken with such a comparatively small battery, and we hope that it has managed to optimize well. We'll run our extensive battery benchmarks and tell you more about the battery life in our upcoming Moto X review.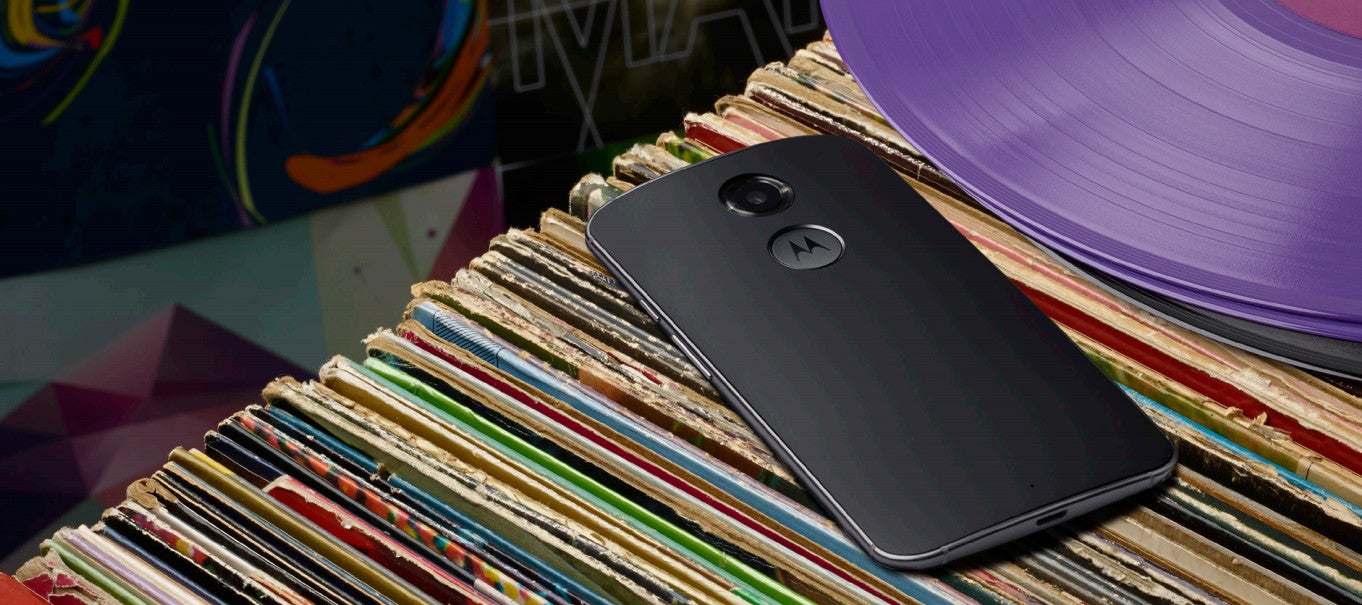 Conclusions and Expectations
Overall, the Moto X is a welcome upgrade on all fronts. Unlike last year's device, it does not feel cheap and plasticky, nor does it ship with any specs that could bring it down (last year's 720p resolution and comparatively dated processor were exactly that). It is also not on the cutting edge, though, as it lacks the latest Snapdragon 801 system chip, and we're yet to see how has it optimized the 13-megapixel Sony IMX135 sensor and the 2300mAh battery. Instead, it focuses on innovation in some meaningful things - the new features are nice, without cluttering the interface and the phone is zippy and premium feeling. Moto Maker is even nicer, and all of that would give the new Moto X extra allure. But it's got a steep hill to climb with fierce Android competition.