Motorola Moto E goes official with a killer price
64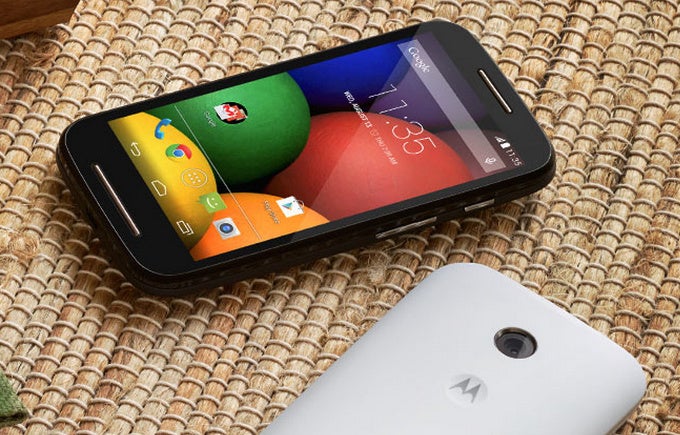 Motorola has just taken the wraps off the
Moto E
, an entry-level smartphone that ups the ante with decent specs and a killer price.
The Moto E continues on the design legacy of the
Moto X
and
Moto G
, with a similar slightly chubby, curvy form with a dimple on the back. It ships in black and white only, but you can add more color with Motorola's interchangeable colorful shells, with 9 color options. In terms of pure dimensions, the E is 0.48-inch thick (12.3mm) and weighs in at 4.94oz (140g).
The handset comes with a 4.3-inch display with a resolution of 540 x 960 pixels (qHD). This might sound low on paper, but on this small screen, it works out to the very sharp pixel density of 256ppi.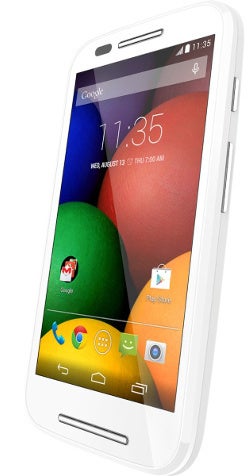 Best of all, the Moto E runs on the latest Android 4.4 KitKat, and Motorola (soon to be Lenovo) guarantees future updates, and that's quite the rarity for such a low-priced device.
The little new Moto features a Snapdragon 200 system chip with 1.2GHz dual-core Cortex A7-based processor and an Adreno 302 GPU running at the respectable 400MHz. There's 1GB of RAM, and a scarce 4GB of internal storage (only 2.2GB available to end users!) that you can, luckily, expand via microSD cards. It's clearly not a super powerful setup that one buys to play the heaviest games at maximum detail, but it is still above the average for the ultra-affordable class the phone belongs to.
It's also got a 5-megapixel camera (no flash in sight) capable of recording videos with 480 x 854-pixel resolution at 30 frames per second. Nope, there's no 720p HD video recording capability, but that's one little compromise that is expected for this kind of money.
In terms of connectivity, the Moto E is well equipped with both a single and dual-SIM models. It also supports 3G with downlink speeds of up to 21Mbps, single-channel Wi-Fi, Bluetooth, GPS, and FM Radio.
The Moto E has also got a 1980mAh battery that Motorola claims can last a full day.
In conclusion, we can say that The Moto E gives the low-end market a good shake-up with its price. It is even cheaper than the already affordable Moto G. It's actually so cheap that Motorola wants to use it as its weapon against feature phones, often sold for similar prices.
The Moto E gives the low-end market a good shake-up with its price
The Moto E release date is set for the coming weeks and it will be available in more than 40 countries and from over 80 carriers across the globe. In fact, the phone is already available for order in the United States for $129, and it arrives on May 19th in the UK for a retail price of £89. Its biggest target market, however, seems to be India, where it launches on local etailer Flipkart for 6999 rupees ($117). Are you getting one?
source:
Motorola