Motorola Moto 360S captured on camera next to the original Moto 360, the size might just be bearable
34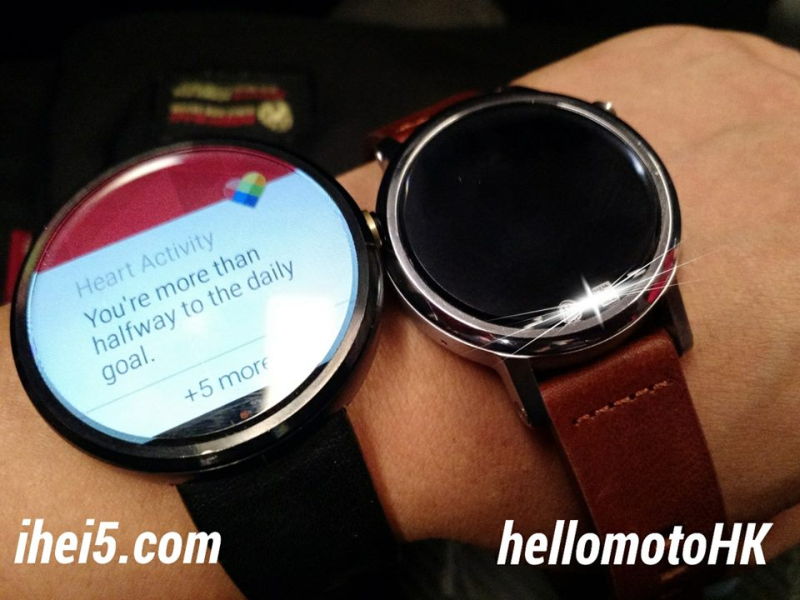 Over the past month or so, it became increasingly clear that Motorola is gearing up to launch a Moto 360 successor in the upcoming months. Following several
spottings at various regulatory agencies
around the world, Motorola itself let the cat out of the bag by posting a
video of the Motorola Moto 360 sequel on Twitter
.
The last time we've heard about the Moto 360 successor, two versions of the wearable were spotted getting their c
ertifications from the Brazilan equivalent to the FCC in the US
. As per those official documents, the two versions are codenamed Moto 360S and Moto 360L and will come in different sizes and with different battery capacities.
Now a fresh leak from China claims to show the Moto 360S side by side the original Motorola Moto 360. One quick look at the photo, and it's obvious that the Moto 360S is much smaller than the original Moto 360. This would make it perfect for those with smaller wrists, especially given that the original Moto 360 was a bit large and bulky for most users.
One detail that's missing from the puzzle is the size of the Motorola Moto 360L. The only bit of information we have in this regard is the fact that the Moto 360L will come with a 375mAh unit. Compared to the 270mAh battery inside the Moto 360L, that's a 38% difference, which could well mean that the Moto 360L will be similar in size to the original Moto 360.
Unfortunately, this leak re-confirms that the Moto 360 successor will retain the flat tire design. Many fans of the Moto 360 hoped for the manufacturer to integrate a fully circular display the second time around, but by now we're almost certain that this will not be the case.
What do you guys think of this leak? Would you be interested in this more normal-sized Motorola 360 successor?