Motorola MOTOACTV rooted, transforms into the smallest Honeycomb tablet
3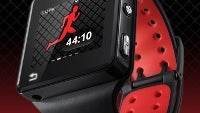 The
Motorola MOTOACTV
aims to be the ultimate fusion between a watch, your fitness companion and a music player, but for $249.99 you might want something a bit more powerful. Actually, the MOTOACTV has some pretty capable internals - a 600MHz TI OMAP 3630 chip and 256MB of RAM, especially considering the small 1.6-inch display. That was enough for Chris Wade, the same developer behind the DingleBerry PlayBook jailbreak, to venture into getting a
Honeycomb launcher
on top of the pre-loaded Gingerbread.
It's not very practical, but it's definitely fun to take the minuscule gadget and end up with a tablet interface. The hack somehow managed to run the Android Market and from there, the Android experience was even richer allowing you to even play Angry Birds and view Google Maps on the tiny MOTOACTV.
Hit the source link below for the full details on how you can turn the MOTOACTV into a small Honeycomb tablet on your wrist, but be warned that this will also void your warranty.