Motorola Holiday Deal take two begins today at 12PM EST
15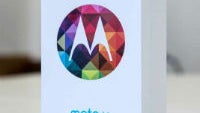 If you've been hoping to get your hands on a less expensive Motorola Moto X, you probably know the story by now. Motorola attempted to offer a $150 off deal on
Cyber Monday
for the Moto X, but the traffic caused problems with the Moto Maker website. The problems couldn't be resolved, so the company decided to do two more Holiday Deal promotions giving out codes in order to minimize traffic to Moto Maker.
The first deal happened this past
Wednesday
, and the codes ran out within just 8 minutes. The second deal is scheduled to happen today at 12PM EST, so we wanted to warn you early to give you a better chance of getting in on the deal. We would suggest heading to the promotion website a few minutes early and starting up the refresh spamming, because no doubt the deal will run out pretty quickly again today.
If you do get a promo code, you'll have one week to order a Moto X, and the code will get you $150 off the full price of a new device. Additionally, anyone can use the "THANKS" promo code for 30% off Motorola accessories.
Update: it took 10 minutes today, but the deal is gone.