Motorola ELECTRIFY M for U.S. Cellular gets Jelly Bean update
3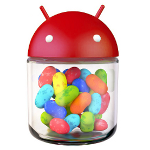 Motorola ELECTRIFY M
on the U.S. Cellular network. Your phone is receiving Android 4.1 through an update that has
started rolling out
. That means you can say good bye to those unsightly
underarm stains
lags thanks to Project Butter. Google Now brings you traffic reports, sports scores, stock market info, all of the information that you want to know, when you want to know it. With the expandable notifications, you can take action right from the notification itself. Did you miss the call from that corporate headhunter about that opening at Cogswell's Cogs? Instead of heading to the dialer to make the call, simply act right from the notification of the missed call and you'll be on the phone in no time, confirming your new position.
Motorola has been a
bit stingy
with the updates, although we should say that lately, they have taken care of their newer models. The pattern that is apparent is that any Motorola model with less than 1GB of RAM got frozen no higher than Gingerbread. In the meantime, the Motorola ELECTRIFY M will raise Jelly Bean's distribution rate,
which Google reported as being 13.6% in the latest report
. And we should warn owners of the phone that these updates don't usually hit everyone at one time. So if it doesn't come today or tomorrow, don't panic. Don't touch your shoelaces or belts. Don't drive to the nearest bridge and jump (at least not with the phone in your pocket). The update will come eventually.
source:
Motorola
via
AndroidCentral