Motorola DROID is Engadget's Gadget of The Year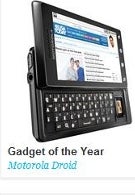 The Motorola DROID has certainly made an impression in the short period of time it has been out. First, it singlehandedly revived Motorola. It gave Verizon a device that it can stand next to the iPhone without looking foolish and it started off the recent craze called Androidmania. Not long after launch, Time Magazine named the phone its 2009 Gadget of the Year. Now, the handset is raking in some more hardware. Based on voting results from readers of Engadget, the DROID was picked as the 2009 Gadget of the Year and the 2009 Smartphone of the Year. It also won GPS Device of the Year. The Samsung Instinct HD won the 2009 Cellphone of the Year.
The Editors over at Engadget voted for the same subjects and once again, the DROID took Gadget of the Year and GPS Device of the Year. Smartphone of the Year went to the iPhone 3GS and the LG BL40 Chocolate Touch was Cellphone of the Year. Interestingly, the Editors voted the Nuvifone G60 as the Worst Gadget of the Year (readers selected the non-cellphone iPod Shuffle 3G) and the Peripheral of the Year for the Editors was the Palm Touchstone recharger while MiFi won Wireless Device of the Year. We've just listed the winners with a connection to the cellphone industry. You can check out the entire list of winners at the source link.
Motorola DROID Specification
|
Review
Apple iPhone 3GS Specifications
|
Review
Garmin-Asus Nuvifone G60 Specifications
|
Review
LG New Chocolate BL 40 Specifications
|
Review
source:
Engadget