Motorola DROID X gets Android 2.3 OTA upgrade; is Netflix coming to the device?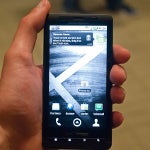 It would appear that Motorola DROID X users have finally received their serving of Gingerbread thanks to an quietly executed OTA download. There is one minor problem-those who have rooted their phone will lose root access with the download and the new Bootloader that comes with the upgrade prevents the user from regaining the root access.
More speculation centers around a .jar file that allegedly says the word Netflix in it. This could indicate that the video rental app will be coming soon to the device.
The Motorola DROID X might no longer be Verizon's flagship handset considering that the HTC ThunderBolt is now available with LTE on board. And the early word on the Droid X2 is that-as we
reported
- the phone will be sticking to 3G connectivity. But for those who don't care about the difference between 3G and 4G speeds, and for those who worry more about battery life-the Motorola DROID X still remains a beast. Add to that the upgrade to Android
2.3
, and some of the
problems
that have been reported by ThunderBolt users and the DROID X remains a relevant phone even in this age of dual-core, 4G enabled handsets.
If you are one of the lucky Motorola DROID X owners who have received the OTA upgrade, let us hear about your experiences with Gingerbread by filling out one of the comment boxes below!
source:
AndroidForums
via
Phandroid