HTC ThunderBolt having 4G connection issues
83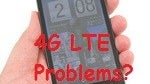 We've been using the
HTC ThunderBolt
for a little over three weeks now, and even though it has a lot to offer....not everything has been roses. As we mentioned in our review, the first unit we recieved had a defective earpiece speaker that made a buzzing/rattling sound, which was replaced with a new unit. This solved the issue (mostly) as long as the volume isn't turned up too high.
Since then, we've mostly used the data part of the ThunderBolt, and under heavy use we are having to charge the phone every 4-6 hours. Otherwise if it just in standby mode without much use, we can get about 18-20 hours on a charge. Some people
have reported
that their units are overheating, though our demo unit has not experienced this.
But there is one problem that we've been having on-and-off, and it appears we're not alone. For some (unknown) reason,
the ThunderBolt will cycle from using 4G LTE, to 3G, to 1x
(as shown on the top of the display) and then eventually go back to 4G LTE. We've seen this happen with the phone just sitting on our desk, at our friend's house, or if we are out driving. This started about a week after our review, and has continued since then. We've looked some on-line forums, and found a few posts from other people on the Verizon Wireless Community forums (
here
,
here
, and
here
), and also on the HTC Forums (
here
and
here
) that are having similar problems.
What's interesting is that some people, who use their phone in a 4G area, are having the same issue as us, with it not staying on 4G, and cycling to 3G and 1x. But for people who only use their phone in a 3G area, it is having problems staying on 3G and sometimes changes to 1x.
One fix that we have tried is to launch the phone's dialer and type in *#*#4636#*#* and select Phone Information. At the bottom it will have "CDMA + LTE EVDO auto" by default. If you change it to "LTE mode" the phone should stay fixed more on 4G. We have tried this and have noticed that it stays on 4G most of the time, though will occasionally change to 3G and then back to 4G, but far less frequently than it did before. If you only use the ThunderBolt in a 3G area, then you could change it to "CDMA auto PRL" as that should keep it locked on 3G more and lessen the amount of times to changes to 1x.
If you have a ThunderBolt and use it in a 4G area and have seen it change to 3G and 1x (while in the 4G area), please let us know in the comment section below. The same thing goes for people who use the ThunderBolt in a 3G area and have seen it change to 1x.
We have reached out to Verizon Wireless about the connection issue, and were told they would look into it and get back to us. We will update you if we learn anything new.
*UPDATE*
Since we posted this article a few days ago, we've read through the user comments, and some have suggested doing a full factory hard-reset to fix the 4G connection issues. We did the hard-reset on our unit, and unfortunately it did not resolve the problem, as it still continues to cycle through 4G/3G/1x with it set to the "CDMA + LTE EVDO auto" as we mentioned above. But once again if we change it to the "LTE mode" it stays on 4G most of the time, though on Sunday we did see it change to 1x....for no reason.
We hope that Verizon and HTC are working on a solution, as it appears by your comments that we are not alone with the 4G connection issue.