Motorola DROID Turbo goes on sale at Verizon - here are your materials, storage, and pricing options
58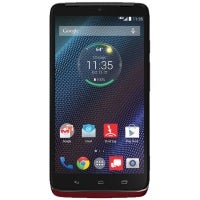 As promised,
the hot-shot Motorola DROID Turbo
is now on sale as a Verizon exclusive. It is available in two variants - with and without a Ballistic Nylon back panel, and is sold in two colors - Black and Red. The non-nylon version is available with 32 GB of storage and is offered on three pricing plans. The first option is to get the full retail price of $600 down to $200 by signing a two-year service contract. The subsided price is paid at checkout, and you're eligible for an upgrade after 2 years.
The second pricing option is to sign up for Verizon EDGE and take the Moto Droid TURBO for $0 down, splitting the full retail cost into 24 monthly payments of $25. You are eligible for a $10-$25 monthly discount depending on your data plan.
The third option is to pick up the Moto DROID Turbo contract-free, at the full retail ($600) price. Verizon offers an in-store pickup option if you like it that way.
Now, what about that ballistic nylon version? Curiously, the pricing doesn't get any more ballistic. The pricing scheme stays the same, but the phone is sold only in Black. However, this one's available in a 64GB version, which amps up the price to $249 on a two-year contract, $27.08 monthly on Verizon EDGE, and $650 full-price.
So, which one are you getting? We're only asking because the community of PhoneArena has expressed
an overwhelming interest in the specs-intensive smartphone
. If you're yet to make up your mind about it,
check out our hands-on
with the Moto DROID Turbo, or
the specs review
,
performance benchmarks
, and
specs comparison
.