Motorola DROID Turbo hands-on
46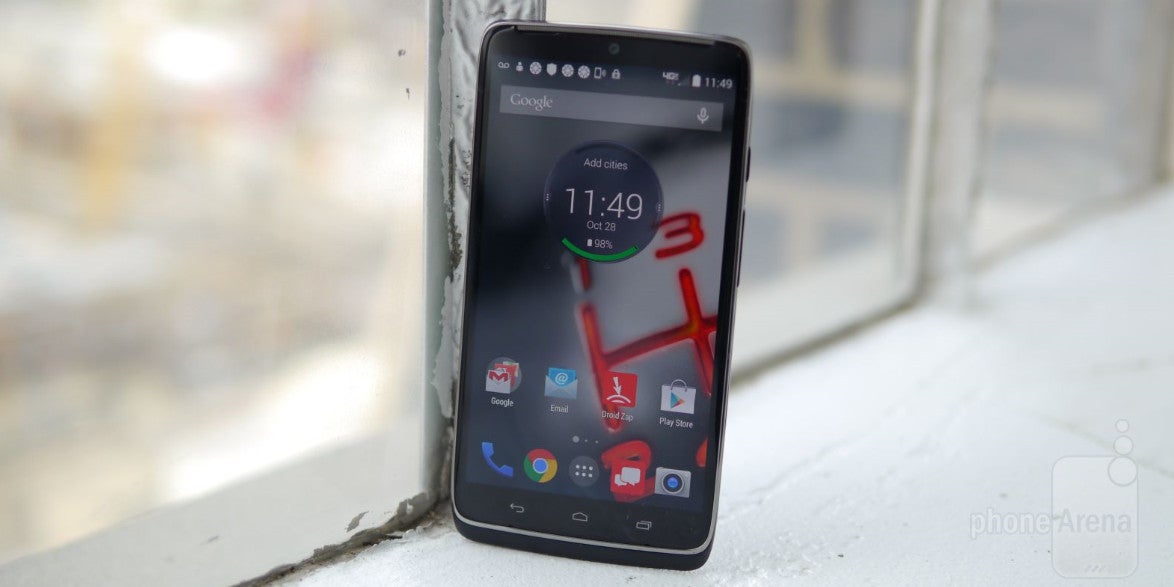 It's hard to imagine that it's been already 5 years since the original Motorola DROID popularized Android to new heights, thus, giving the Motorola notoriety once again in the process as well. In that time, we've seen the DROID family branched like no other, with notables such as the Motorola DROID X and DROID RAZR easily coming to mind, but Moto seemingly steered towards a new direction in the last couple of years. You can say, they decided to start fresh with the Moto X – a venture that aimed for broader availability, whereas with the DROID line, it's a Verizon exclusive.
Well folks, the tides may be turning yet again with the upcoming Motorola DROID Turbo, which is shaping to be one of the beefiest, baddest, and long lasting smartphones out there. Even without touching the phone, the specs sheet already have us drooling with its 5.2-inch quad-HD screen, 21-megapixel camera, Snapdragon 805 chip, and a 3900 mAh battery. Charged up to for a shocking introduction, the Motorola DROID Turbo is going zero to 60 in less than a few short seconds – let's see what it's all about!
Design
From a close inspection, the DROID Turbo exhibits some of the familiar design characteristics of DROIDs past. For one, we're pretty amused that it's able to trim off a lot of fat – where its skinny bezels make this 5.2-incher feel pretty easy in the hand. A common implementation with today's high-end smartphones, the DROID Turbo, much like the 2014 Moto X (and many more), sports a metal trim bezel outlining the sides of the phone. Interestingly, though, the DROID Turbo is available in two bodied options: metalized glass fiber (MGF) and nylon fiber. With the former, it's similar in texture to the materials used by past DROIDs, which exhibits a rubbery feel. Meanwhile, the new nylon fiber one has an attractive look of its own, just because it has a more natural, fabric feel to it.
In typical fashion, the rear casing features ultra-strong Kevlar fiber, even with the nylon fiber one – while a water repellant coating helps to keep the phone safeguarded from minor splashes. However, it's not water resistant, so don't think for a second it'll survive a dunk. Nevertheless, its design is distinct enough to separate it from what Motorola is doing with the Moto X. In any event, it looks good, feels good, and has that quality sturdiness we've come to expect from the DROID name.
Display
A visual feat no doubt, the DROID Turbo impresses with its 5.2-inch quad-HD 2560 x 1440 AMOLED display, which gives it that future proof quality. In fact, it's in an elite club, as there are still very few smartphones with quad-HD displays. Not surprisingly, details are super crisp and clear – thanks in part to its number crushing pixel density count of 565 ppi. Undoubtedly, it's one of the most detailed screens out there!
At the same time, the AMOLED screen emits that iridescent glow that easily catches out attention in a dark room. We can talk about how AMOLED screens produce over-saturated colors, and how they're not realistic, but when it comes to attractiveness, it surely has a profound look to it. Of course, it bears all of the qualities of the technology – like its wide viewing angles and pure black color.
Interface
Quickly previewing the software running in the DROID Turbo, it's apparent that it's running pretty much the same mostly stock Android 4.4.4 KitKat experience we've seen already in the latest Moto X smartphone. Therefore, it reaps the benefits as its distant family member. We've always been fond of the software features that Motorola has included with its experience in the Moto X, mainly because they prove to be useful – as opposed to overwhelming or redundant. In particular, the listing includes Moto Voice, Moto Actions, Moto Assist, and Moto Display.
Interestingly, though, it bears its own set of software features different form the Moto X, that gear to sharing content between other sevices. Going with the "
Zap
" tagline, these features seem to be more social, where handset owners share content between one another. It's actually a standalone app, which can be downloaded on other Android phones. For starters, there's "
Zap Zone
," which automates sharing between friends by creating a "
zap zone
" – where invitees to the zone can share photos within the group with the flick of a finger. And with the aid of a Chromecast connected to a television set, we zap content and create a slideshow. And finally, there's an option that allows us to zap screenshots automatically too.
Overall, these exclusive features are more secondary things we'd probably use infrequently – just because they don't seem as important to use day in, day out for most consumers. And of course, it's proven by the fact that they're more social centric features than anything else.
Processor and Memory
Like its display, the processor in the DROID Turbo is meant to be relevant for a good, long time. To be exact, it's lugging around Qualcomm's latest piece of silicon – a quad-core 2.7GHz Qualcomm Snapdragon 805 SoC with a beefy 3GB of RAM. Not surprisingly, the phone flies with every flick, swipe, and press, so there are no worries about the performance with this one.
Just like the Moto X, the Motorola DROID Turbo lacks expandable memory via microSD card slot, but its saving grace is that it boasts a spacious 32GB, with an additional option of 64GB for those who need the extra space.
Camera
One of the most underwhelming parts of the Moto X is its camera, a 13-megapixel camera that fails to rival its contemporaries. Well, it seems as though the DROID Turbo is intent in squashing those concerns, since it packs along an impressive 21-megapixel auto-focus camera, which features an f/2.0 aperture lens, dual-LED flash, and up to 4K video recording. Indeed, we're anxious to see its quality!
Expectations
The latest version of the Moto X had nearly all the elements in making it a wonderful phone, but it lacks the impressive specs sheet of the DROID Turbo. With this latest offering, which of course is a Verizon exclusive, it's jumping straight to the top of the leader boards with its future proof hardware – with a built-like-a-tank construction to match it. In addition, it's especially comforting to know that it's stuffed with a beefy 3900 mAh, a capacity that should give it considerable longevity. As we've said, the specs are drool worthy, the design looks stunning, and the beefy battery is making this a formidable beast this upcoming holiday season. Let's just cross our fingers and hope that it delivers quality results – as in taking good photos, having a really long battery life, and much more.
Priced at $199.99 with a contract through Verizon, for the 32GB red/black metalized glass fiber versions, it's undoubtedly an aggressive point made by Big Red and Verizon, so we're really wowed by the decision. For a mere $50 more, you can snag the 64GB version of the nylon fiber for $249.99 with a 2-year contract.