Motorola DROID Turbo 2 Star Wars edition hits Moto Maker tomorrow
14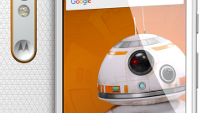 Back in 2010,
Motorola and Verizon decided to release a special R2-D2 version
of the
Motorola DROID 2
. The phone was loaded up with Star Wars content, and did resemble R2-D2, but only if the droid was flattened by a steamroller. These days, the R2-D2 DROID is considered more of a collector's item, and with the December 18th launch of
The Force Awakens
creeping up on us, we wouldn't be surprised to see the price of the phone getting pushed up by nostalgic Star Wars fans.
Speaking of Star Wars, starting tomorrow Verizon customers can create their own
Motorola DROID Turbo 2
Star Wars edition through the Moto Maker tool either online, or inside Verizon stores. That means that DROID Turbo 2 buyers can select from new colors and backs based on five characters from the upcoming film: Poe Dameron, Rey, BB-8, a First Order Storm Trooper and Kylo Ren. Star Wars character wallpaper will be available to download from an exclusive Google Play app.
The pricing for the Star Wars customization will be close to what the more expensive options cost for the DROID Turbo 2. And no, using a Jedi mind trick is not going to get Verizon to lower the price, or send you one for free. What you might win for free is one of 12,000 opening weekend tickets to
The Force Awakens
that Big Red is giving away. To enter, you need to go to Verizon's Theory Wars website (Theorywars.com) where Star Wars fans can talk about their expectations for the new movie.
source: Verizon