Motorola DROID RAZR display up at some Verizon locations
18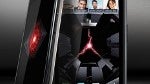 You know that the
Motorola DROID RAZR
is coming with the constant airplay that the new television commercial is getting (with an ad that once again shows none of the phone's features except that it apparently can slice a light pole in two) and the new display that is up at many Verizon stores. The display shows a metallic arm
similar to the one that you get to wield in the "DROID extraction" game
, holding the RAZR sideways, showing off how thin this phone really is. A sign reminds you that
the actual launch is coming 11:11am on 11/11
. By now, you should have come to the realization that the 11's represent two thin Motorola DROID RAZR units standing next to each other. Luckily for Big Red, November is the 11th month of the year because 10 or 12 wouldn't quite work.
In addition to the display, it seems that some Verizon locations might even have a demo unit for
the manager and his favorite reps to play with in the back of the store
the customers to check out while at the store. We are not referring to those dummy units that have a printed label to represent the screen, but an
honest-to-goodness working model
that lets you load up PhoneArena so that you can check the browser.
If you decide to blow off work on Monday morning (Sorry Mr. Smith, it's the flu. I'll take care of the Henderson account tomorrow) or take a detour and forget to do the shopping (nothing wrong with 3 month old turkey slices, hon. The dogs? Let them fend for themselves) so that you can check out the new Verizon flagship for yourself, let us know what you think about the Motorola DROID RAZR in the comment box below. For those that can't slip away to visit a Verizon location, we're
just days away
from the 11:11 11/11 launch. And in case you've forgotten, the phone is $299.99 with a signed 2-year contract.
source:
DroidLife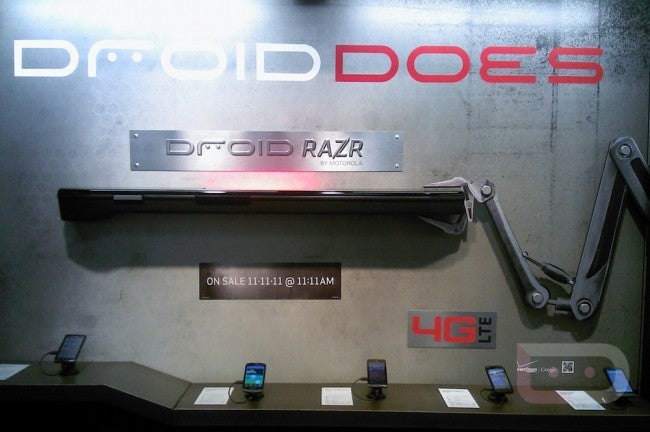 Some Verizon stores already have a display up for the Motorola DROID RAZR