Two contests give you a shot at winning the Motorola DROID RAZR
15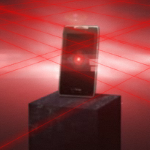 The other day, we alerted you that
the DroidLanding site had been reactivated
which hinted at a contest that would give you a chance to win the upcoming Motorola DROID RAZR. Well, we were wrong. There are actually
two
different contests running, both of which can end up delivering a
Motorola DROID RAZR
to your hand.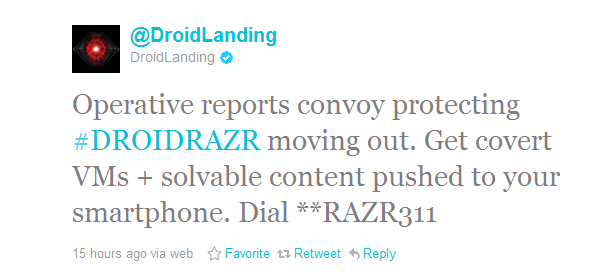 This tweet contains info about the scavenger hunt
According to
Phandroid
, the first game resembles one of those crane games that you might find in acarnival or at Denny's. Unlike those versions of the game, you have to avoid "lasers" to grab the DROID RAZR. But here's a catch that is a brilliant piece of social marketing by Verizon. Every time you get one of your Facebook pals to "Like" the game, some of the
lasers are disabled
. Kudos to whomever came up with that idea. The game is called "Droid Extraction" and you can find it at the sourcelink.
The second contest is a return to the old scavenger hunt. A tweet has been sent out telling Verizon customers to call
**DROID311
. When you make the call, you are texted some photographs of the phone along with a location,
37.450437 N, 77.441189 W
. We're not quite sure what to make of all of this information, but we suspect that more instructions will be forthcoming.
source:
DROIDDOES
via
Phandroid