Motorola DROID RAZR, HTC Rezound, and more down to a penny on Amazon
30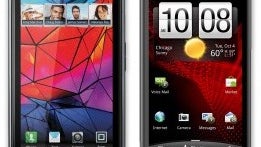 The
Motorola DROID RAZR
and the
HTC Rezound
are undoubtedly two of the hottest Android smartphones that Verizon has to offer, and more than a few of you may have already added them to your Holiday shopping lists. But have you wondered which would be the retailer to give you the best deal? Well, here is the answer to that question.
Both the Motorola DROID RAZR and the HTC Rezound are now on sale on Amazon
, and their price has been slashed down to a mere penny. The deal is valid for new Verizon subscribers only, and, of course, requires you to sign a 2-year contract with the carrier.
If you are not familiar with the Motorola DROID RAZR yet, the smartphone currently boasts the title of "slimmest phone in the world" thanks to its 7.1-millimeter waistline. It is quite a looker as well as its super slim body is a fusion between steel, aluminum, and kevlar. The DROID RAZR boasts a 4.3-inch qHD Super AMOLED Advanced display in its front, an 8-megapixel camera at its back, and a powerful, dual-core processor under its hood. Android 2.3.5 is what runs on the smartphone out of the box, and hooking you up to the internet is its 4G LTE radio.
The HTC Rezound, on the other hand, is less about looks and more about performance. It comes with a 4.3-inch 720p touchscreen and a dual-core Qualcomm chipset clocked at 1.5GHz. You get Android 2.3.4 pre-installed, and the LTE radio allows you to fly on Verizon's 4G airwaves. But what makes the Rezound unique is that it is the first smartphone in the U.S. powered by Beats Audio by Dr Dre, so if you happen to be a music freak, this just might be the smartphone for you.
Anyone thinking about taking advantage of the deal and grabbing any of these two Android smartphones? Do not hesitate to brag about it by dropping a comment below, and if you cannot make up your mind between the two of them, our
Motorola DROID RAZR vs HTC Rezound
comparison might be of help.
UPDATE:
It turns out that the Motorola DROID RAZR and HTC Rezound are not the only devices on sale. Starting today,
all phones from Verizon, Sprint and AT&T are down to a penny and include standard free 2-day shipping
. The offer ends on November 28 or while supplies last. Besides, if you pick a smartphone with mobile hotspot functionality and activate the feature, you will get a $100 Amazon gift card.