Motorola DROID RAZR HD specs preview
30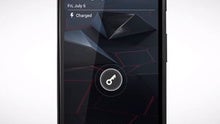 Back in October of 2011, Motorola and Verizon announced a high-end smartphone that brought the RAZR lineup back to life and paved the way for a number of equally hot follow-ups to be released. The smartphone in question is, of course, the
Motorola DROID RAZR
, which, back in the days, was the thinnest handset that money could buy.
Fast forward 10 months into the future and we are now anticipating the announcement of the next generation RAZR – the
Motorola DROID RAZR HD
, as it is being referred to, which will be bigger, faster, and, in a nutshell, more awesome than its predecessor. Now, keep in mind that the smartphone has not been unveiled yet, so virtually all the information that surrounds it is strictly unofficial. However, that doesn't stop us from going over what the rumor mill has been busy providing us with – spy photos, hardware specifications, and the likes. Care to join us?
Design
The Motorola DROID RAZR blew away the competition with its premium build quality and outstanding, ultra-slim design. In fact, with its 7.1-millimeter waistline, it still looks cool enough to make heads turn even though it has been on the market for almost a year. As you might expect, something tells us that the DROID RAZR HD will follow closely in the footsteps of its predecessor. After all, why would Motorola change a working formula?
Chances are that the upcoming smartphone will come with a Kevlar-reinforced body, as it is seemingly confirmed by the leaked spy shots we've been seeing recently, and some fancy liquid-repelling nano-coating isn't out of the question either. Interestingly, we came across a rumor not long ago suggesting that a
RAZR HD model tailored for the European market
was also being planned. That handset is to have a different pattern on its back cover and a GSM radio compatible with the networks of overseas carriers. However, we will take that rumor with a grain of salt for now.
In terms of size, the Motorola DROID RAZR HD will undoubtedly be bigger and possibly even thicker than the very first DROID RAZR, albeit not by much. Or at least that is what we are expecting since the smartphone will sport a larger screen, according to rumors. Besides, the battery inside it will be of considerable capacity, as the
handset's FCC filing revealed
.
Display
We've been hearing from here and there that the screen on the Motorola DROID RAZR HD will measure 4.6 inches in diagonal, which, if true, will put the handset in the same size category with heavyweights like the
Samsung Galaxy Nexus
,
HTC One X
, and the
Motorola ATRIX HD
. Its resolution will undoubtedly be no less than 1280 by 720 pixels, on-screen keys included, resulting in a pretty high pixel density of 319ppi for smooth, detailed graphics. Rumor has it that Motorola will also use its ColorBoost technology for more vibrant color reproduction. When it comes to display technology, the rumor mill favors LCD over Super AMOLED, so chances are that a traditional RGB pixel arrangement will be used instead of a PenTile matrix.
Processor and memory
Don't expect seeing any TI OMAP silicon ticking under the hood of this beast, folks. The Motorola DROID RAZR HD will most likely have a 1.5GHz, dual-core Snapdragon S4 ticking inside – the MSM8960 that also powers AT&T's ATRIX HD and many other Android high-ends. And that's not bad at all. Despite not being of the quad-core kind like the Tegra 3 by NVIDIA or the Exynos 4412 by Samsung, the fourth generation Snapdragon chips deliver identical real-life performance, as it is evident in our reviews, comparisons, and synthetic benchmark results. There will be no less than 1GB of RAM on the RAZR HD, but the exact figure will become known after its official announcement.
In terms of storage capacity, the exact figure is still unknown, but 16 gigs seem like a reasonable amount for a smartphone of this class. Besides, tipsters hint that a microSD card slot will be present, meaning that users will be free to expand the handset's storage capacity even further.
Camera
Although the initial batch of rumors were pointing at a 13-megapixel camera for the Motorola DROID RAZR HD, we've been hearing lately that the maker is sticking to an 8-megapixel auto-focus shooter with a single LED flash. That isn't necessarily a dealbreaker since 8 megapixels are usually sufficient to produce good-looking images under the right circumstances. Still, we are hoping that Motorola has paid more attention to image quality this time as photos and videos taken with the very first DROID RAZR were good, but nothing spectacular.
Operating system
A couple of times when photos of the RAZR HD surfaced on the web, Android 4.0 was what ran on it. Therefore, chances are that the smartphone will launch with a skinned version of Ice Cream Sandwich out of the box, with a promise that an update to Jelly Bean will be released in the forthcoming months. However, a set of
instructional DROID RAZR HD videos
were leaked on YouTube recently. Although they are now down, those who managed to watch them might have noticed that Chrome was set as the default web browser, which is a Jelly Bean trait. Therefore, there is a slight chance of seeing Android 4.1 running on the Motorola DROID RAZR HD at launch, but we suggest that you don't set our hopes too high on this one.
Connectivity and battery life
Just like its predecessor, the Motorola DROID RAZR HD will be an LTE smartphone – that we can say with absolute certainty. Now, it is no secret that LTE handsets tend to suck more power than their non-4G counterparts, which is why their manufacturers outfit them with extra large batteries. The RAZR HD will be no exception as it will pack a beastly 2,530mAh battery. In comparison, the cell inside the
Samsung Galaxy S III
has a capacity of "only" 2,100mAh. Sadly, a "MAXX" variant of the DROID RAZR HD with an even bigger battery does not appear to be on the agenda for now, according to rumors.
Release date
There is little doubt that the DROID RAZR HD announcement will take place at the
Motorola/Verizon event scheduled for September 5
. However, don't expect this highly anticipated smartphone to land on the carrier's shelves on the very next day. Perhaps pre-orders will begin soon after the official unveiling, but the first units will probably ship no sooner than October. We should know more on the matter in just a couple of weeks so stay tuned.
Recommended Stories