Motorola DROID BIONIC HD Station Hands-on
4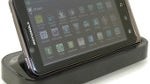 If the
Lapdock accessory for the Motorola DROID BIONIC
seems way out of your league or simply too much dough for you to handle, then you might find the optional
HD Station dock
to be a better solution. For starters, it's only sporting a
$99.99
price tag as opposed to the Lapdock's sizable $299.99, which is a considerable amount of savings when you think about it. And more importantly, we're still treated to all of the juicy goodness that
Motorola's Webtop experience
has to offer.
Essentially, the HD Station dock looks like any other
pedestal dock available for other smartphones
, but the beauty in it all is that you can essentially turn the DROID BIONIC into a quick and easy to use mini-computer of some sort. In the rear, three
full sized USB ports
that allow you to connect USB peripherals to it – like a mouse, keyboard, or flash drive. Of course, the entire thing actively charges the handset while it's docked, and it connects to a high definition television via its microHDMI cable.
After selecting the Webtop option on the handset, it transforms into one giant trackpad that's used to navigate around the Webtop interface – plus, there are left and right mouse clicks to help better select something. Furthermore, you can easily input text by using the on-screen keyboard available on the handset as well. With Webtop, we're still able to interact with the DROID BIONIC since a virtual representation of the handset is displayed within the interface. On top of that,
Mozilla Firefox
is available to provide us that desktop-like experience right on the big screen.
For something that's constructed out of plastic, it doesn't necessarily exude something that's priced up there at $100, but it makes up with its depth of functionality with the entire Webtop experience.