Motorola Backflip/Motus/Enzo has unusual form factor and an AT&T logo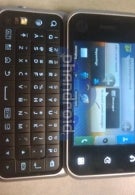 Our
previous report
on the Motorola Motus seems to have been spot on. We mentioned that the device would probably have a new name by its launch by AT&T. Today, Phandroid obtained a clear picture of the phone from a tipster that shows the AT&T logo on the device. The handset, called the Motorola Enzo by the tipster, is expected to undergo another name change to the Backflip before release. The unique form factor allows the keyboard to remain facing the user even when the phone is closed. The device will come with Android 1.5, MOTOBLUR, and include Yahoo Search, AT&T Nav, AT&T Music and AT&T Mobile App store. While the device will come with Google Maps and the Android Market, it will not come with Google apps.
The QWERTY keyboard is always open, according to the tipster, and flips from the back. When the keyboard is open, it reveals a touchpad that allows you to scroll through web pages. The phone is said to be light and responsive, with an outstanding camera, bright flash and perfect auto focus. As for the specs, the processor is 528MHz with 512MB ROM and 256MB RAM. The display is a
3.1
inch HVGA (320 X 480 pixels) screen with a 5MP camera and an LED flash. Also on board is Wi-Fi, Bluetooth 2.0 and GPS. The phone can be positioned to be used as an alarm clock or a video display. One last comment from the Phandroid tipster who says the Backflip is thinner, shorter and lighter than the G1. No word on a launch date or pricing, but Motorola and AT&T are hoping that you will flip over this model.
Motorola Backflip Preliminary Specifications
source:
Phandroid
via
EngadgetMobile