Motorola ATRIX 4G and HTC Inspire 4G both receive an AT&T upgrade that turns on their HSUPA radios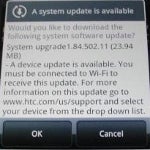 The Motorola ATRIX 4G received two upgrades from AT&T on Friday. The handset had various bug fixes and improvements including having its HSUPA radios turned on. The model should now benefit from faster mobile data upload speeds since the ATRIX 4G had been shipped with HSUPA capabilities disabled. The carrier said that it had to wait to a refinement of certain software before turning on the radio.
The Motorola ATRIX 4G upgrades must be done over Wi-Fi and in a certain order. You can check the sourcelink for the information. As far as fixing the little things, one upgrade for the ATRIX 4G should improve battery life, enhance the performance of the fingerprint reader, and turns off the display while charging, while the other upgrade enables Yahoo! email over Wi-Fi, turns on the HSUPA radio, and allows for 2G/
EDGE
mobile hot spot capabilities.
AT&T also announced that they have also sent an OTA upgrade to users of the HTC Inspire 4G that turns on
that unit's
HSUPA radio. Inspire owners can check to see if they have received the download by going to Home>Menu>Settings> AT&T Software Update> HTC Wi-Fi software update. Besides increasing the phone's upload data speed, the HTC Inspire 4G upgrade also makes it easier to set up email accounts and includes the most up to date settings for each type of email and updates email auto configuration for Hotmail, Live and MSN.
source:
AT&T
,
HTC
via
Phonescoop