Motorola ATRIX 4G, XOOM 3G coming at the end of February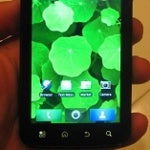 There is hardly anyone following themobile tech industry who hasn't heard about Motorola's announcementsat CES and rightly so. The company's ATRIX 4G for AT&T, which can dock into a laptopchassis to power it up, is one of the most anticipated handsets onthe market. And now Motorola Mobility's own Sanjay Jha confirmed thatthe device will hit shelves at the end of February along withMotorola's 3G-enabled Honeycomb tablet XOOM for Verizon.
Motorola Mobility's LTE heavyweights –the Motorola DROID BIONIC and the LTE-capable XOOM– will be available at the end of the second quarter. Timing forthe AT&T ATRIX 4G is very good as the dual-core phone willprobably dominate the carrier's lineup in terms of specifications fora longer period as its main competitor in the face of the next-geniPhone is expected not earlier than this summer.
Motorola Mobility's earnings forecastis not the brightest one out there as Jha admittedthat Verizon's iPhone 4 announcement will hurt Motorola's sales. Butfor many users, dual-core processors will be a revelation so Motorolaseems to be on the right track with its latest products.
source: Motorola Mobility via Engadget