Moto Z3 Play specs comparison versus OnePlus 6 and Galaxy S8: Is it worth $499?
2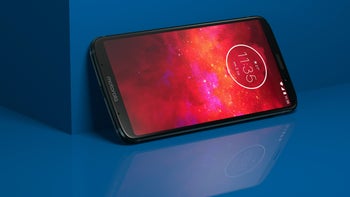 The
Moto Z3 Play
, the company's latest upper mid-range device, is now official. With a Snapdragon 636, 4GB of RAM, 6-inch 18:9 Super AMOLED display, a side-positioned fingerprint sensor, and portrait mode functionality available on both the front and the rear camera, the
Moto Z3
Play is a phone that shouldn't be overlooked.
The Moto Z3 Play is among the first devices with a Snapdragon 636 to be available in the US. This chipset has been lauded as being quite power-efficient, which is always a plus in our book. Other notable devices that boast the Snapdragon 636 are the Xiaomi
Redmi Note 5
Pro and the Asus ZenFone 5, but you will have a hard time getting either through official carrier channels.
The whole shebang is priced at $499, but is it worth the money? Well, let's actually compare it with two other devices which could be snatched for a similar price tag. Those would be the OnePlus 6, which costs $30 more, and the Galaxy S8, last year's Samsung flagship, which can be snatched below $550 these days,
or even less
.
Super AMOLED
AMOLED
Super AMOLED
HDR support, Scratch-resistant glass, Ambient light sensor, Proximity sensor
Scratch-resistant glass, Ambient light sensor, Proximity sensor
Scratch-resistant glass, Ambient light sensor, Proximity sensor
Qualcomm Snapdragon 835 MSM8998
Qualcomm Snapdragon 845 SDM845
Qualcomm Snapdragon 636 SDM636
Octa-core, 2350 MHz, Kryo 280, 64-bit, 10 nm
Octa-core, 2800 MHz, Kryo 385, 64-bit, 10 nm
Octa-core, 1800 MHz, Kryo 260, 64-bit, 14 nm
Adreno 540
Adreno 630
Adreno 509
64GB
256GB, not expandable
64GB
Android (9.0 Pie, 8.0 Oreo, 7.0 Nougat), Samsung One UI
Android (11, 10, 9.0 Pie, 8.1 Oreo), OxygenOS UI
Android (9.0 Pie, 8.1 Oreo)
Qualcomm Quick Charge 2.0
OnePlus Dash Charge
Motorola TurboPower
30.00 hours
the

average

is 17 h (996 min)
24.00 hours
the

average

is 17 h (996 min)
13.4 days (321 hours)
the

average

is 20 days (472 h)
12.5 days (299 hours)
the

average

is 20 days (472 h)
3G: 12 hours; LTE: 14 hours; Wi-Fi: 14 hours
Single camera
Dual camera
Dual camera
16 MP (OIS, PDAF, CMOS image sensor)
Aperture size: F1.7; Focal length: 26 mm; Sensor size: 1/2.55"; Pixel size: 1.4 μm
Aperture size: F1.7; Focal length: 25 mm; Sensor size: 1/2.6"; Pixel size: 1.22 μm
Aperture size: F1.7; Sensor size: 1/2.55"; Pixel size: 1.4 μm
20 MP (PDAF, CMOS image sensor)
5 MP (Depth information)
Aperture size: F1.7; Focal Length: 25 mm; Sensor size: 1/2.8"; Pixel size: 1 μm
3840x2160 (4K UHD) (30 fps), 2560x1440 (QHD), 1920x1080 (Full HD) (60 fps), 1280x720 (HD) (240 fps)
3840x2160 (4K UHD) (60 fps), 1920x1080 (Full HD) (240 fps), 1280x720 (HD) (480 fps)
3840x2160 (4K UHD) (30 fps)
HDR, Time-lapse video, Hyperlapse, Continuous autofocus, Object tracking, Picture-taking during video recording, Video light, EIS, Video calling, Video sharing
Time-lapse video, EIS, Video calling, Video sharing
Time-lapse video, Video calling, Video sharing
8 MP
16 MP
8 MP
2560x1440 (QHD)
1920x1080 (Full HD) (30 fps)
1920x1080 (Full HD) (30 fps)
5.86 x 2.68 x 0.31 inches (148.9 x 68.1 x 8.0 mm)
6.13 x 2.97 x 0.31 inches (155.7 x 75.4 x 7.75 mm)
6.16 x 3.01 x 0.27 inches (156.5 x 76.5 x 6.75 mm)
5.47 oz (155.0 g)
the

average

is 6.5 oz (184 g)
6.24 oz (177.0 g)
the

average

is 6.5 oz (184 g)
5.50 oz (156.0 g)
the

average

is 6.5 oz (184 g)
Back: Glass (Corning Gorilla Glass 5); Frame: Aluminum
Back: Glass (Corning Gorilla Glass 5); Frame: Metal
Back: Glass (Corning Gorilla Glass 3); Frame: Aluminum
Water, Dust; IP68
Splash
Splash
Iris scanner, 2D Face unlock, Fingerprint (touch)
2D Face unlock, Fingerprint (touch)
2D Face unlock, Fingerprint (touch)