Moto X seen handled by a Motorola exec (video), confirming leaks
22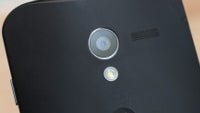 Remember how
we expected to hear something official on the Moto X
during an allegedly Motorola-hosted event yesterday? And do you also remember
how that hope was ruthlessly extinguished subsequently
? We do!
So, guess what? Turns out that while we were told that the event is not necessarily about the Moto X, it did have a top Motorola exec handling it, and luckily – somebody caught it on video.
Shot by famous blogger, Robert Scoble (through Glass!), the video was first made available on his Google+ page, and it didn't take long for some people to start noticing that throughout a performance by Daria Musk, a G+ musical sensation, a person later recognized as SVP of Product Management for Motorola Mobility is seen filming the action with what
seems to be
the Moto X. In fact, the slowed down version of the video below wraps up two important points:
1. As far as we can tell, the device looks exactly like
the fully assembled black Moto X we saw a few days ago
2. According to
the Verizon roadmap that leaked yesterday
, the launch of the device on the carrier's network is in less than two months, meaning that any prototyping stages are likely over.
So what's next? We sit tight and wait. Just kidding, the comment section is at your raving convenience!