Moto X for Verizon appears in another leaked pic, reveals subtle UI changes
24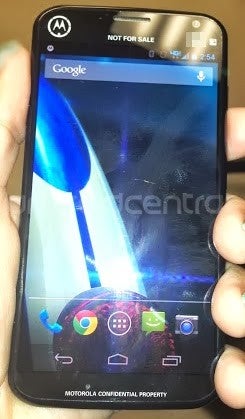 While not as revealing as some of the
other photos
or
videos we have seen
of the device, this shot does share some intrigue. First, there is an honest idea about the size of the phone as well as the rather defined (large) bezels surrounding the screen. The overall form factor appears similar to a Nexus 4.
Another interesting observation is the
area where the soft-keys are displayed
. Unlike previous full screen set-ups where the soft-keys were displayed amongst a black background, it looks like that
is now transparent
. It does contrast against the opaque background along the notification bar at the top however.
Based on the
Verizon road map that was leaked to us yesterday
, the
Moto X
will launch on August 23rd. It is expected that those who order the device will be able to
choose a number of customization options to personalize
the outward appearance of the hardware.
source:
Android Central