Moto X Play arrives at Moto Maker in a palette of pretty colors, 196 color combinations available
11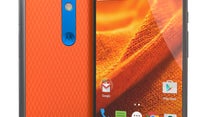 Well, this didn't take long. It was only yesterday when Motorola announced the new
Moto X Play
, yet the smartphone is already featured in Moto Maker, where we can take a good, albeit virtual look at the handset. Better yet, Motorola is letting us explore the various customization options available for the Moto X Play. While the front of the smartphone can be only either black or white, the back plate can be had in one of 14 distinct colors, while the list of accent colors includes 7 striking hues. In total, there are 196 possible color combinations for the Moto X Play – a figure that few other smartphones can match.
The Motorola Moto X Play, for those who missed yesterday's Motorola event, falls in the mid-range category of Android smartphones. And it stands out with more than just a broad range of personalization options. The phone is outfitted with a capacious, 3630 mAh battery, which is promised to last through 48 hours of mixed usage. You also get a 21MP main camera, which Motorola claims to be one of the best around. The Moto X Play's 5.5-inch display has a resolution of 1080 by 1920 pixels, and its Snapdragon 615 SoC is backed by 2GB of RAM.
If you want to get your hands on a Motorola Moto X Play, you'll have to sit tight for a few more weeks, as the phone is projected to launch in August. There's a catch, however – the phone is not going to launch in the U.S., although we'd say that the Moto X Style will prove a decent alternative. As for its price, all we know is that the Moto X Play will be $300 to $400 cheaper than competitors' flagship phones. The exact figures, however, will be revealed in the coming weeks.