Moto Maker now accepting online orders and full retail purchases
4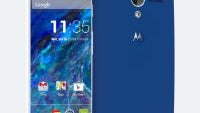 When the Motorola Moto X was first launched this past Friday, there were early questions as to why it was
impossible to purchase a customized Moto X at full retail
. At the time, customers were only allowed to either buy a woven black/white model from an AT&T store, or get a customized Moto X on contract. Well, whatever the reasoning, the restrictions on the Moto Maker tool have been lifted.
As of today, if you want a customized Moto X (on AT&T), you no longer have to buy it on contract, and you no longer have to buy the redemption card in the AT&T store to begin your purchase. All of that can now be done directly through the Moto Maker site. Of course, the only model available is still the AT&T model. And, even if you purchase it at full retail, you'll have to be an AT&T customer in order for AT&T to officially unlock it for you, otherwise you have to unlock it yourself, and assume the risks. Even at full retail, you are not buying an unlocked device. We can't stress that point enough.
But, if you want an off-contract Moto X, it will cost you $579 for the 16GB model or $629 for the 32GB model, which is what you would expect a device like this to retail for since it is a Motorola device and not a Google device. Or, you can purchase a customized Moto X directly through the Moto Maker site as an upgrade for your existing AT&T contract or on a new contract with AT&T.