Moshi iVisor XT hands-on
4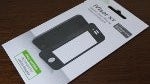 The experience of
applying a screen protector
of some kind on a device could be either good or bad depending on the results, but as we've come to see too often,
bubbles
are persistent things that arise during the process. Sure, there are some screen protectors that require a liquid solution to be applied in order to lessen or completely eliminate bubbles. Nevertheless, they're more of a hassle than anything else. Normally we don't tend to cover screen protectors, but with the
Moshi iVisor XT
for the iPad and iPhone, it's able to capture our attention for the simple reasoning that it's
guaranteed to be 100% bubble-free
.
And surely enough folks, our jaws drop in awe as those remarks prove to be
true
in every way. So how does it work? Well, it seems that a thin piece of plastic is layered on top of an adhesive outer border, which results in keeping the screen protector slightly raised and bubble-free every single time we apply it on both the new iPad and iPhone 4S. However, we have to admit, we absolutely love the hassle-free experience when applying the iVisor XT over other screen protectors we've seen.
Frankly, we're enthralled by its pristine appearance, but we do notice
some distortion
towards the middle of the screen protector – though, it's not recognizable when looking at the device straight on. Additionally, our iPhone and iPad maintains the
same level of responsiveness
with the iVisor XT applied. Priced at
$30
for the iPad and
$25
for the iPhone, some might be scared away from its price point versus comparable screen protectors, but seriously, its reusable aspect makes it more valuable – especially with that 100% bubble-free guarantee. Therefore, if you're tired of having to buy screen protectors for your iPad or iPhone, you ought to check out the Moshi iVisor XT since it's probably going to be the only one you'll ever need to buy.