Morgan Stanley analyst lowers her estimate of tablet growth this year by more than half
21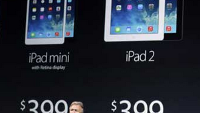 Apple reported
a drop in iPad sales for its fiscal second quarter
. For the three month period that expired at the end of March, Apple sold 16.3 million tablets vs. 19.5 million during the same three month period from the year before. Better get used to declining iPad sales, says Morgan Stanley analyst Katy Huberty. In fact, Huberty says that analysts and consumers should be prepared for declining tablet sales generally.
For 2014, Huberty is slashing her expectations for overall tablet growth from 26% to 12%. What would cause a Wall Street numbers pusher to cut her prediction for 2014 growth in tablet sales by more than half? For one, Huberty sees an increase in penetration rates, which means that many who want a tablet, already have one. And unlike smartphones, which continue to offer new specs and improved features and hardware, there is really no urgency to upgrade to a new model every few years.
Android slates are less affected than iPads are. Tablets powered by Google's open source OS have more of a selection based on pricing, and screen sizes. But the Morgan Stanley analyst also decries the lack of innovation in the tablet market as a whole, for the drop in her estimate. The
Apple iPad
is credited with starting the whole tablet category in 2010. While other manufacturers have had to play catch up, Apple dominated the tablet industry until Samsung and low-cost Android players caught up.
"Most blame weakness on increased penetration rates and lack of meaningful innovation. Few suppliers were able to communicate a credible argument for a growth re-acceleration this year, however Android appears to be faring better than iOS tablets on the back of lower price points and broader product portfolios. Longer-term, suppliers expect larger screen tablets to further cannibalize traditional notebooks."-Katy Huberty, analyst, Morgan Stanley
And with Apple expected to release a pair of larger screened iPhones this year, there is no telling how many iPad sales could be cannibalized by sales of these iOS flavored handsets.
source:
BusinessInsider