More troubles for Uber: driver crashes into police car, pot found
22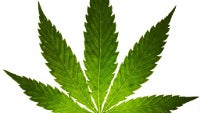 Uber is the company that offers a mobile app allowing users to arrange for a ride. Uber offers different rates depending on the type of car you request, and the length of your journey. With the app, you can track the progress of the driver as he gets closer to your location, and payment is done via your phone; no cash changes hands.
One of the problems that Uber's management has to deal with are the personal issues that some of its drivers have. In any business, a certain percentage of employees have problems that might affect their performance on the job. Uber has raised so much money as it prepares to offer an IPO, that it is very high profile at the moment. Additionally, some of the actions allegedly committed by these drivers are so heinous that they naturally grab headlines.
In India,
a driver has been charged with sexual assault against a passenger
and a driver in Boston was charged with rape. Last week in Minnesota, another incident involving a Uber driver took place. The unlucky passenger was a gentleman named Kelly O'Keefe who needed a ride to the airport. O'Keefe noticed that the driver was distracted and when he attempted to make a lane change, he smacked right into a police car.
After handing over his license and registration, the officer asked to look into the glove compartment. Inside was a bag with marijuana, which the driver refused to accept responsibility for. Of course, that is the standard response by anyone caught with illegal narcotics.
O'Keefe still needed to get to the airport, and with the Uber car smashed and the driver in cuffs, he tried to contact Uber to no avail. After finding a way to the Airport, he was contacted by Uber to make sure he was alright. O'Keefe was refunded the $24 and the driver was terminated. Ironically, O'Keefe is a brand management specialist and says that the company's reputation is being harmed by these incidents. Perhaps better screening of drivers by Uber would save them from these embarrassing problems. If they continue, no one is going to want to take a ride with a Uber driver behind the wheel.
"I see this as an excellent example of a brand at great risk. They have the right concept, but growing execution problems — quality assurance and customer service among them."-Kelly O' Keefe, professor, Virginia Commonwealth University Brandcenter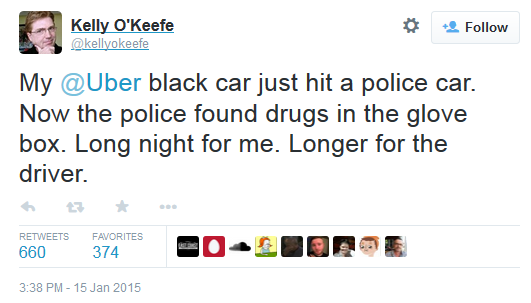 Uber's public perception takes another hit
source:
@kellyokeefe
via
BGR