More than anything else, our readers use their smartphones to browse the web (poll results)
8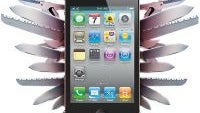 Yesterday
we asked you to identify the one activity you use your smartphone most for, and we now have the results. A total of 1708 people participated, and here's the split.
Surprisingly enough (or not?), most people (37%) use their smartphones to... simply surf the web. Not far behind is the second largest group, with 29.1% of the vote, that mostly uses their sophisticated computing devices to call, text, and IM with other human beings. Third on the list, with 11.83%, are them folks with earphones always plugged in, listening to music, followed by gamers (7.08%), shutter-happy photography buffs (6.5%), and readers (2.28%). Almost nobody (1.87%) uses their smartphone to watch movies, which is interesting considering the prominence of phablets these days.
We could draw all kinds of conclusions from these results. For one, our survey confirms what we've all known for a while — browsing on mobile devices is
exploding
. We could also use this as an opportunity to provide feedback to manufacturers: guys, people still talk on their phones! So, please, stop glossing over the quality of the earspeaker and microphone. And finally, perhaps it's time for mainstream handset makers to take a page off Chinese upstarts' book, and start bundling dedicated audio chips with their flagships — people obviously spend quite some time streaming music from their phones.